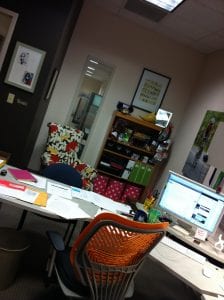 This is one shot of where I work – looking down
If you visited LinkedIn on Tuesday, you may have noticed the site is giving visitors a peek at the workspaces of well-known business people including Arianna Huffington, Richard Branson and Prime Minister David Cameron.
I love this idea, because like so many others, I love going behind the scenes. (How else do you explain the popularity of shows like "How It's Made" and "Stuff You Should Know?")
Flipping through the "Where I Work" collection gives you a look at the real working spaces of the people we know, and sometimes admire. While some work in spaces we can only dream of – I won't be joining Mr. Branson on the beach anytime soon – others show the real nitty gritty of their workspaces.
We see through offices like Arianna Huffington and T. Boone Pickens that we aren't alone in our collections, or piles of paperwork. Through offices like those of Jim Citrin, Aaron Hurst and Peter Gruber, we can find ideas for new or different ways to work whether it is using a stand up desk or opening lines of communication through glass walls and open doors.
But most of all, we can see through stories like these how normal extraordinary people can be (expect, again for Mr. Branson. Nothing ordinary there).
It can be tempting to always want to show a perfect image of ourselves and our organizations. But when used appropriately there is an opportunity in the unscripted, behind the scenes moments to show our individual personalities and humanize an organization.
Take a look around and you will see many examples of organizations pulling back the curtain and giving customers  a glimpse behind the scenes. And there is no right way to do it, other than to find moments that tell the true story of your organization, for example:
Show pictures from a commercial or photo shoot including members of the production team. Have a member of the "family" involved? Tell that story too as we did with these photos from a past video shoot starring my daughter.
Raising money by wearing Red for Women or pulling on your favorite football uniform? Share photos!
Introduce staff members working behind the scenes through interviews about their jobs, their favorite moments working at the organization, and their interests and life outside of work.
Whether you are building a new branch, or just installing new window signs, let customers see changes as they happen, and give credit to those partners with whom you are working.
Share candid moments or bloopers that don't make the final cut, or if creating 30 second commercials, also produce extended videos with additional content or commentary as with 60 Minutes' funniest moments with Adele.
One of my favorite client examples of pulling back the curtain is the video created for Framingham Co-operative Bank (now MutualOne Bank). Created as part of a larger campaign supporting one of their employees, the video shows the banker's real personality through unscripted moments from an earlier photo shoot and outtakes from the video recording.
Can't see the video? Check it out here on YouTube.
Another example of showing select behind the scenes photos is when we announced changes here at Sundin Associates. With the announcement we naturally included a photograph of Ed and I looking "oh so fashionable" with the release. But what you might not have seen, unless you follow us on Facebook, were the other shots from our photo shoot.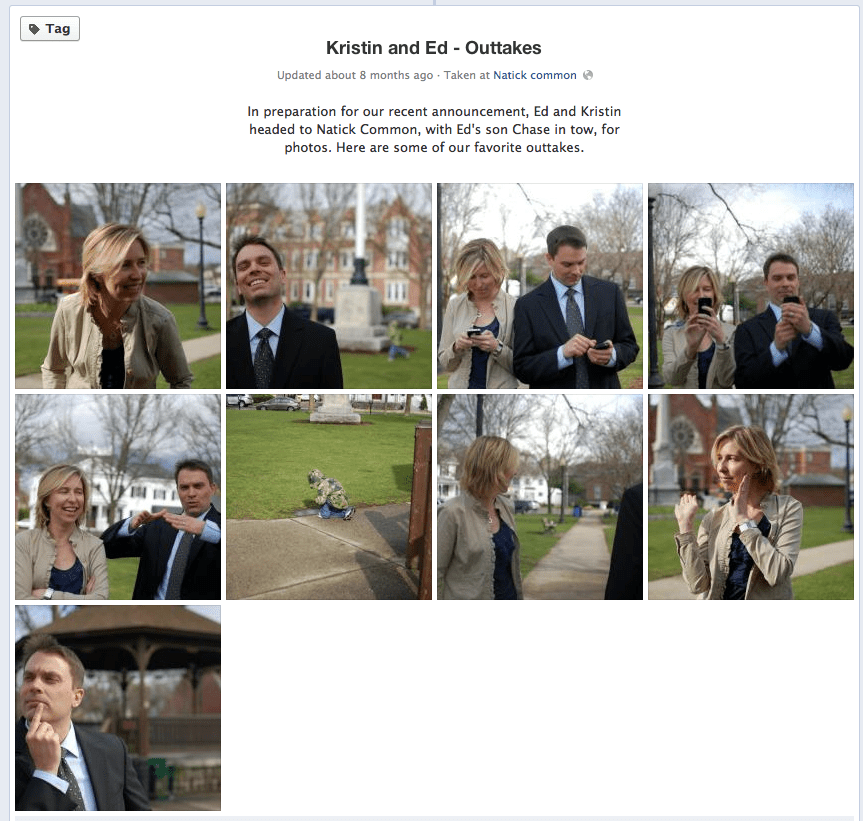 These outtakes, and believe me there were more than a few to choose from, were selected because I felt they gave the viewer a sense of our personalities, our relationship, and our agency. They show we know how not to take ourselves too seriously, and with the inclusion of Ed's son in the background (he joined us at the photo shoot), always acknowledging there is more to life than the work we do.