When first launched, reviews on Facebook were designed to leverage the power of the social network by allowing your customers to leave a rating and comment on your Page. Back in 2018 a Forbes article stated:
According to Market Force research, 81% of its 12,000 respondents from the U.S. and UK confirmed that their purchasing decisions were directly influenced by their friends' recommendations and posts. Moreover, 78% said posts by the businesses they follow impact their decisions as well. What makes it interesting, though, is that Facebook accounts for 50% of total social referrals and 64% of total social revenue.
With this in mind, many businesses spent a lot of time and effort working to build up their Facebook reviews with mixed results, then only to have the social network change from reviews to recommendations, removing the previous star-based system.
Even as Facebook faces many challenges including declining teenage usage and consequences from the whistleblower's testimony, there are many social media experts still sharing reasons why businesses should continue to increase recommendations as a way to help your business build organic reach and credibility, and promote positive customer service.
But for banks, in particular, a not-so-funny thing has started to pop up in their Facebook recommendations – scams with what appear to be opportunities for a reader to make money through an investment or other means. A quick Google search for "bank facebook review" showed a similar review on every single bank page we visited: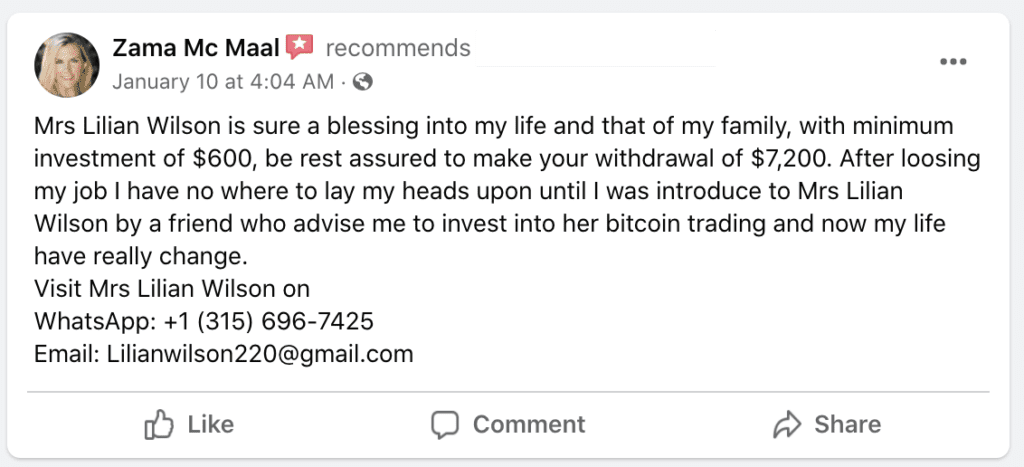 Recommendations like these on a financial institution's official Facebook page could certainly be considered a significant risk to reputation – but unfortunately, due to the nature of how recommendations work, they are not easily removed. As a page administrator, you can report a recommendation as spam which then triggers a few other options from Facebook including banning the user from the Page and hiding all posts from your view, neither of which will remove the spam.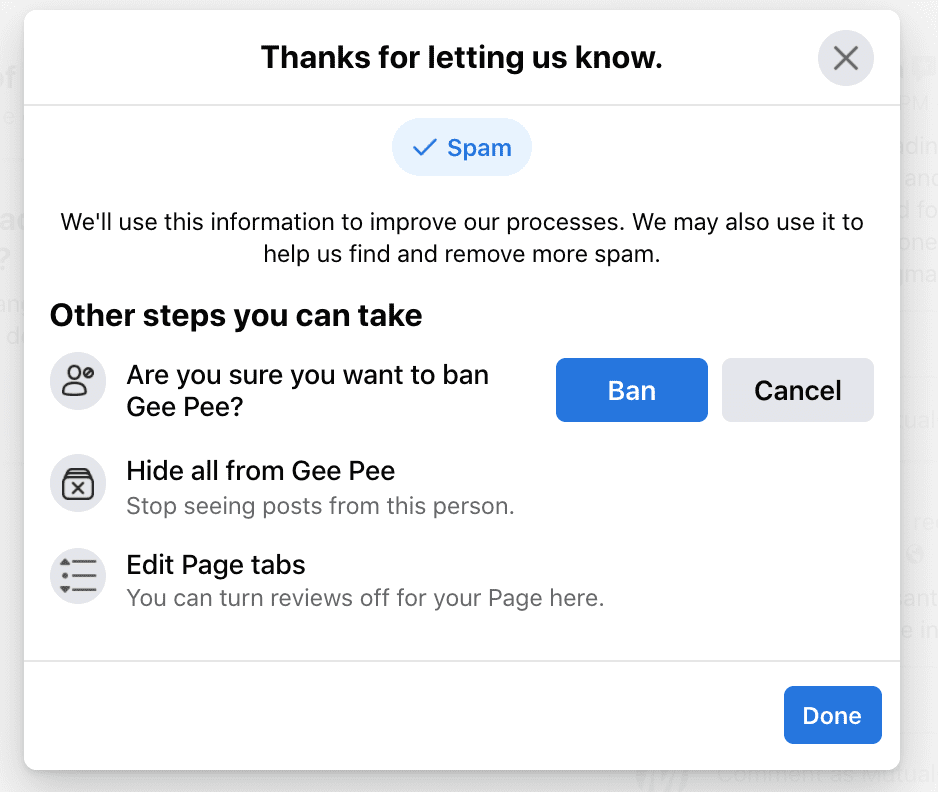 The only way to hide the recommendation is, as Facebook notes, is to turn off ALL reviews to your Page. At this time, given the risk to reputation and the inability to remove recommendations, hiding the review tab is what we are doing for most of our clients.
This brings us back to something we've written about in the past – why you want to protect your base and avoid making significant investments in channels you do not own. Unfortunately, because Facebook cannot seem to control the spammy/scammy recommendations on their platform, businesses that have made an investment in building these recommendations risk losing all of that content, either because Facebook discontinues the service, or because you choose to hide all the reviews.
If you are considering building reviews and recommendations – whether on Yelp, Facebook, Google, or any of the other available channels – consider regularly copying them to a text document and sharing to a channel you do own – your website.