I am a woman with an identity crisis – and looking around social media, I have decided I'm not alone.
One look at the Twitter app on my phone illustrates my issue – I can, at any time, be speaking as one of four identities: me, Sundin Associates, Manic Mommies or Steve the Bike Guy.
I started thinking about this during the most recent ABA Marketing and Retail Banking Conference, when I noticed some attendees were tweeting highlights from the conference through their Bank accounts, which isn't necessarily a problem but could get a little sticky for the institution if a customer notices they are tweeting facts about improving profitability or fee revenue.
My challenge during the conference was managing two of my identities – both of which are financial marketing-related but have different personalities. On the corporate side, I wanted to draw attention to the agency and strengthen our position as financial marketers, and on the personal side, I wanted to update just enough to stay in the mix without irritating those followers who might not be interested in bank marketing (can you imagine)?
My solution – take notes and professional observations over @SundinInc:

And post personal observations on my own account: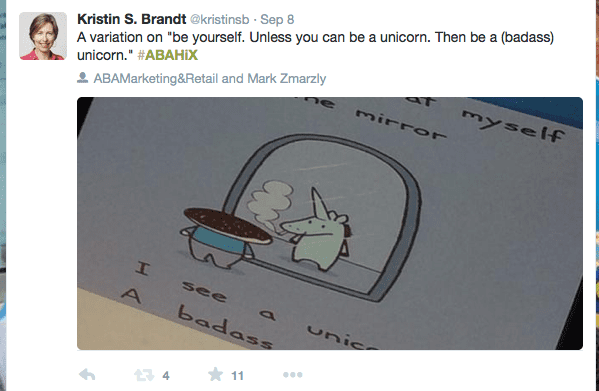 This topic came up again at the start of cyclocross season when, after posting a photo of my new bicycle, I was followed by the manufacturer, Focus. While I got a certain pleasure from the attention, I immediately recognized that the person I wanted Focus to follow was not me, but Steve.
See where I'm going with this?
With the goal of making the most of the available channels, I've determined that managing these different personalities requires understanding the audience and voice of each:
Sundin Associates
Supporting the agency's specialty of financial marketing, most updates are in the third-person and related to marketing and financial marketing, as well as agency, client and employee news. The agency channels are updated least frequently with peaks during conference or other events.
Steve the Bike Guy
My husband's account is a mix of personal and professional with a twist towards his target market of local cyclists and vendors (both current and prospective). Posts to his various channels are in the 1st person (Steve) and anything of a technical nature is passed by Steve for review and approval.
Manic Mommies
Speaking in the "we" through the podcast's Twitter account, we share items of interest to our target audience, working parents.
Kristin (me)
I'm probably the least strategic with my personal account, which is reflected in the mix of updates that may include agency news and updates (limited); Steve the Bike Guy news and updates (limited), personal opinions, items of interest, questions or request for assistance, interests, activities and current obsessions.
During our recent family trip to Seattle, I spent most of my time tweeting as Sundin Associates during the Washington Bankers Association's Women in Banking Conference, or as Steve while we toured bike shops and attended a local cyclocross race.
No wonder I have an identity crisis.