A regular, and favorite, part of my job is to come up with ideas for "out of the box" campaigns. Something beyond the every day – something different, something fun, something that will engage the target audience as well as the people who are charged with carrying out the campaign.
It's at these times that I seek inspiration, not from websites dedicated to financial marketing, or even other advertising campaigns. Instead, I look everywhere else.
Take for example our recent campaign for Level One Bank targeting prospective business customers. Through our research, as well as my personal experience as a business owner (and daughter of a business owner. And the wife of a business owner.), we believed that most of us did not consider ourselves "entrepreneurs." Looking to connect the Bank's mission statement to" champion the entrepreneurial spirit" to these prospects, we needed to find a way to get business owners to identify as entrepreneurs.
With that goal in mind, I found inspiration from Oprah (you're an entrepreneur, you're an entrepreneur, you're an entrepreneur), Romper Room's Magic Mirror (I see an entrepreneur), and Eric Carle's Brown Bear, Brown Bear, What do you see.
The result? A mailing that invited recipients to "meet one of the most important contributors to local economic growth" complete with a mirror inside. (You can see more of it here).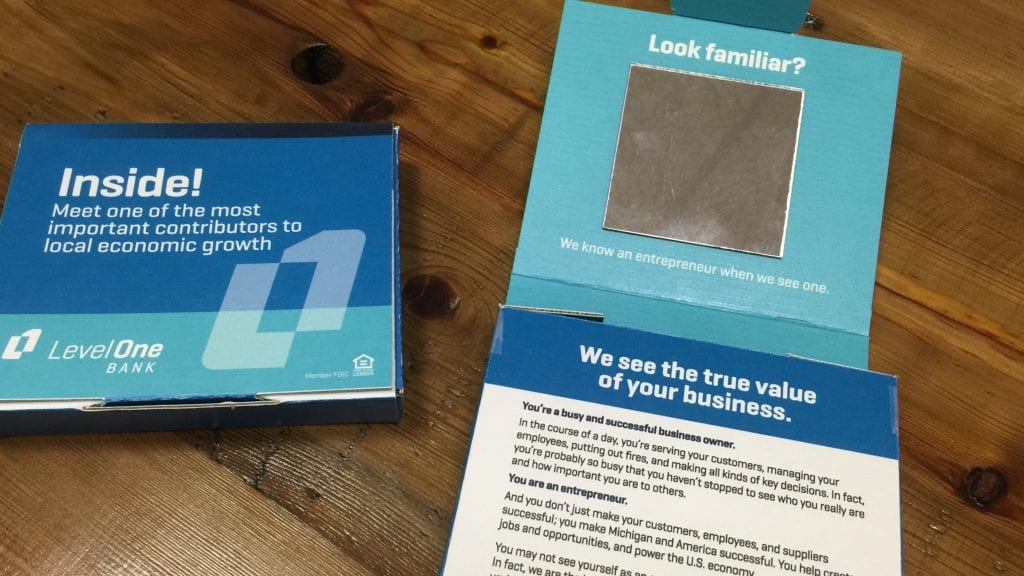 Inspiration can come from my travels – introducing me to new ideas that can be applied to ideas back at home. For example, as part of Charles River Bank's 100th anniversary, we proposed distributing 100 wind chimes throughout the community as a way to thank customers and neighbors for their support.
The idea came from a trip my husband and I took to Arizona last year where I was introduced to Ben's Bells, a non-profit organization dedicated to inspiring, educating and motivating people "to realize the impact of intentional kindness, and to empower individuals to act according to that awareness, thereby strengthening ourselves, our relationships and our communities."
As part of their mission, Ben's Bells spreads kindness through their communities in the shape of beautiful bells built by and left in the community. This idea of "found" joy and celebration was what we were looking to spread to the communities served by Charles River Bank.
While I believe inspiration can be found everywhere – there is one place that often makes my idea well run dry . . . the internet. Or more specifically, social media. When I found myself feeling uninspired I know I've spent too much time checking in on what other people are doing, and not spending enough time on doing my own things.
That's when it's important to log off and do something. Go for a run or a bike. Pick up a book. Play with my kids. Talk to friends. Make something. Cook something. Sleep.
For then the ideas will come.
How do you find inspiration?