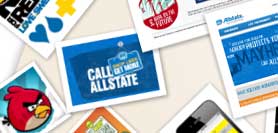 Our stock and trade here at the agency is ideas. Big ideas for integrated, multi-channel campaigns. Small ideas for program ads and giveaways. And ideas of all sizes in between. But what inspires these ideas?
The answer, of course, is everything.
The trick is drawing on these sources of inspiration – you know, everything – when we need an idea, and figuring out how to bring together the inspirations from other members of our team. At times like these, we have found a vision board (or more accurately, a series of vision boards), can help.
If you are like me, your experience with vision boards may be limited to likes of Oprah or your favorite blogger. In this capacity they are designed to help an individual visualize their ambitions or goals in a tangible format, turning those dreams into something that can be viewed, touched and referenced later.
In an agency environment, a vision board can help do the same thing during the development of an idea by pulling together influences, inspirations, data and trends.
For example, during  a brainstorming session last year, our team pulled together items that would help us craft a campaign for a client entering a new market. The items included:
Market data – Information about our potential audience, as well as competition we should be aware of, and available media.
Customer data – Facts and figures about the Bank's customers in the marketplace, including results of a recent survey.
Industry trends – Headlines related to trends in advertising as well as public perception of the financial industry.
Influences – Anything – ad campaigns, delivery channels, games – that caught our eye, got us talking or sparked some debate.
The result, after continued conversation and some editing, were boards like the one below that pulled together some of the results of our conversations.
Using the resulting boards, we were able to not just present our client with a new campaign, but also walk them visually through the process which led to what some may consider a fairly outrageous result.
There is no question in my mind that our idea & inspiration sharing were aided by the fact we are all in the same physical space, but there are certainly ways to collaborate in the same manner whether you are working together physically or virtually.
For example, using Pinterest can be a great way to collect items that inspire (as we do on this board), you can also create secret boards and invite members of your team to contribute if you want to collaborate without friends and followers watching.
Inspiration can come from anywhere and everywhere. How you collect and utilize that inspiration is up to you!