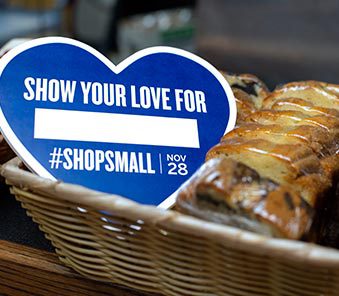 With a growing interest in shopping/eating/banking local, it's become easier for small organizations to compete with the "big guys." Beyond what business owners can do themselves, they have also found support from organizations such as American Express® (Small Business Saturday) and the ICBA (Go Local) looking to encourage people to "shop local."
In the old days, there was an unwritten agreement that a community bank would not open a branch in a town that already had a community bank. But those days are gone, and, as we see here in downtown Natick, it's not uncommon for town centers to claim multiple community banks.
So how does a local bank, or any small retailer, compete when "shop local" is no longer a differentiator?
Don't dwell
Let's all take a moment and acknowledge that competing with another small bank or business is less than ideal – who wants to compete with a company we may respect? Or if we weren't in the same business, would actually be excited they were coming into town? Acknowledge your anger, frustration and sadness – and move on.
Get things done
There will be time between when a competitor will announce their plans, and when they actually open their doors. Take this time to get things done that have been on your to do list, but continue to slip to the bottom. For example, if you've been considering hiring someone to help out, now may be the best time, so you can focus your attention on improving customer service, finding new business or rolling out new services.
Know your competitor
Take the time to get to know your new competitor – check them out online, talk to shared customers, and even stop by for a visit. What do they do well? What are their specialties? Where are there opportunities? Through this analysis you can determine where your services may overlap, but also what differentiates you from your competitor.
To thine own self be true
It's easy to overreact when presented with the challenge of a new competitor – but at the end of the day, you will be most successful if you remain focused on your goals, your strengths and your customers. You cannot be all things to all people, so do not try.

Stay in front of your customers
If you are not communicating with your customers regularly, now is the time to start. A weekly or bi-weekly email newsletter will allow you to stay top of mind with your customers – but remember to keep your messaging authentic to you and your business. (Read: keep the sales announcements to a minimum).
Find opportunities to work together
Within the differences between you and your competitor, may also come opportunities for more business through shared referrals. For example, one of our clients regularly receives referrals for land loans, a loan product many community banks do not offer, from their local competitors.
Learn from your neighbors
While this may feel like a tragic turn of events, look around and you will see many examples of local businesses thriving despite similar competitors right next door – within four blocks of our office you can find two jewelry stores, two dry cleaners, two coffee shops and three Italian restaurants. If they can do it, so can you.