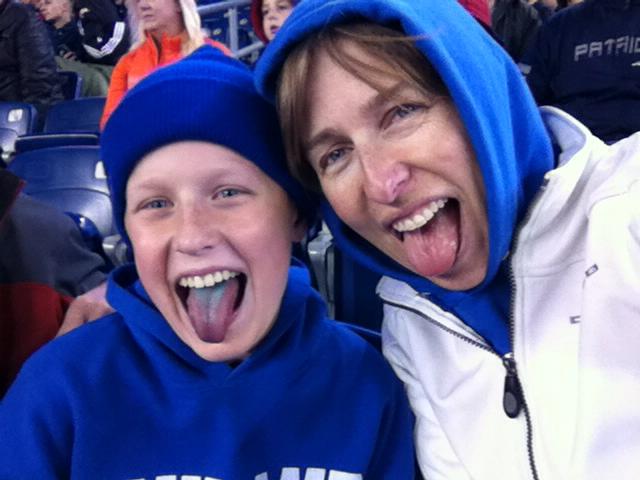 As the unofficial "keeper of the brand" for Ashland Lacrosse, I have gained a reputation for having a strong opinion about what color the kids, coaches and supporters should wear.
To give you some background, Ashland's official color, often referred to in town as "Ashland Blue" is a basic royal blue, often accented with red and white. It's not the most exciting color, but it certainly stands out and you can find royal blue options in almost any article of clothing or chachki.
Last year, I was asked what I thought about adding a red sweatshirt to our current offerings. While I agreed they were sharp looking, I also pointed out they weren't appropriate for our team, in part because red is the color of one of our neighboring teams.
A year later, I'm still hearing about the red sweatshirts that weren't.
But I remain unapologetic about my stand on the royal blue. Color is an often underestimated, but important piece of any organization's brand equity. Consider for a moment well-known brands and their associated colors – Target (red), John Deere (green), Wal-Mart (blue), UPS (brown). (Check out this site which shares the official color codes for well-known brands).
What would you think if the UPS person showed up wearing blue? Or orange? When done well, color is an easy, effective and affordable way to support a brand. When done incorrectly everyone is sure to notice because it creates brand confusion and dissonance.
As a parent, blue is what I look for when we arrive at the soccer or lacrosse field and need to point my child towards the team. Blue is what I look for when I head to the bleachers to sit with my fellow parents. Blue is what I look for when I'm watching the game or trying to find a coach.
I do understand that people get tired (or bored) of any one color – we have certainly maxed out the number of royal blue sweatshirts one family should own – which is why I'm open to alternatives that compliment, but don't contradict the brand color. For example, Ashland Lacrosse offers grey and pink t-shirt options, both of which are not colors worn by competitors. But those should not be worn by players or coaches during games or team events when it would dilute the brand.
If you think I'm making too much of color, consider this – on Thanksgiving, our 11-year-old daughter and I attended the Ashland High School football game. Looking across the field at the opposing team's cheering section, she said "they don't seem to have much spirit over there."
Her reason? No one was wearing the town's colors, green and orange.

Save
Save
Save
Save
Save