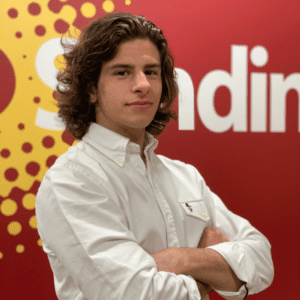 Join us in welcoming our latest summer intern, Nathan Domingos.
A rising senior at Wheaton College in Massachusetts, Nathan is a Studio Art major with concentrations in Business and Art History. Intent on pursuing a career in graphics, industrial, or architectural design, Nathan became interested in marketing and entrepreneurship later on in his academic career. He has previously worked as a footwear design intern at Scandìc Footwear and sculpture studio intern at Skylight Studios and has freelance experience designing logos, formatting websites, and running social media accounts.
As an aspiring artist, designer, and entrepreneur beginning his own freelance enterprise copperminted™, Nathan recognizes the power of visual art and social media in creating resonant connections between ideas and people. At Sundin, he is looking to channel his experience with visual and written content to support ongoing social media and content marketing campaigns, as well as contribute to other client projects. Nathan is also looking forward to working with the art directors to gain experience with graphic design for marketing purposes.
Nathan plays for the Wheaton Men's Soccer team and enjoys collaborating with friends on independent video and art projects.