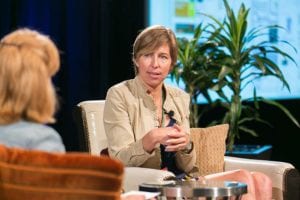 Last week I was welcomed as the featured speaker at the 2013 Business Meeting of GM's Women's Retail Network.
And while it may seem odd for someone who specializes in financial marketing to address a roomful of auto dealers, through conversations with those in attendance I immediately discovered that our two industries had many similarities.
They see the opportunity & the risks
Whether or not their dealership had made the leap to utilizing some social media channel or another, they all understand tools such as Facebook, Twitter, LinkedIn and Pinterest offered opportunity to connect with customers, community and prospects.
But like many of our clients, they also have many concerns including managing the risk to their reputation; determining how social media fits into their larger communication strategy; and establishing how they would add "another thing" to their already lengthy to-do list.
They have  a story to tell
Beyond selling and servicing cars, each woman dealer owner has an amazing story to tell. They are not just working, but thriving, in a decidedly non-traditional industry and were mentoring or sponsoring young women trying to do the same. Many like third-generation dealership owner Cari Yturri of Bennett Motors in Montana, were carrying on a family tradition, having succeeded where so many have failed – transitioning their organization from one generation to the next.
They are fighting strong stereotypes
Consider for a moment what comes to mind when you read "car salesman." I'm guessing the image isn't entirely flattering, despite the fact that no one has dressed like this guy, in decades!
Now compare that with what most consumers think about switching bank accounts. How often do we have to say "it's easy to switch" before someone believes us?
They are giving back to the community
They take their role in the community seriously, and their efforts are making a big impact. Through the Give The Kids Hope Foundation, Judith Schumacher-Tilton of Tilton Auto Group (parent company of Schumacher Chevrolet and Gearhart Chevrolet), is working to rebuild Camp Hope, a refuge in West Milford, New Jersey where underprivileged children have the chance to swim, hike, play and experience nature. They have even teamed up with Reebok and David Harris of the NY Jets Up to donate $40,000 in new shoes to campers.
They are finding success
My partner on the stage, Sissy Parks of Parks Chevrolet, uses her passion for dogs to drive her marketing and social media messaging. Through their efforts, the dealership has hit 6,300 Facebook "Likes" while making contributions to local dog rescues. They are also connecting with their community on a variety of other topics including tips for buying used cars and specials from Chevrolet.
Hopefully, through our conversation, Sissy and I were able to convey to each attendee the potential benefits of utilizing social channels, as well as practical advice for how to mitigate any risks.
Photo credit: John F. Martin Photography Grosse Pointe Woods, MI