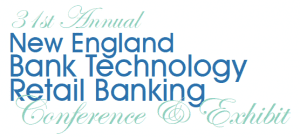 On Thursday, June 7th, Kristin Brandt will be joining other experts in the financial field as a speaker at the 31st Annual New England Bank Technology Retail Banking Conference and Exhibition, organized by the Massachusetts Bankers Association.
During two break out sessions, Kristin will be addressing the "Role and Risks of Social Media in Retail Banking."
It is understood that "social media" can be a powerful tool for reaching customers. Many banks are already using it, but how can retail bankers successfully take advantage of popular social media channels, and what are the potential risks to the bank?
From account and customer acquisition, to customer service support and brand monitoring, we will explore how community banks can use social media to support an attention grabbing retail banking strategy, with a specific focus on Facebook and Twitter.
To find out more, or to register, visit the MassBankers.org.