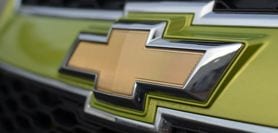 It is understood within the financial industry that the first 90 days after a new product is purchased are a critical time for cross-selling additional products or services. It is why so many organizations direct their efforts towards developing onboarding programs designed to increasing wallet share and customer profitability.
But within the onboarding equation, how often do we talk about ensuring customers are satisfied with their purchase?
It is this question that I have been considering since visiting General Motor's Engagement Center in Austin, Texas last month. As readers may know, my blog and podcast are sponsored by Chevrolet, and it was through this connection that I had the pleasure to be in Austin – it was a welcome escape from the snowy Northeast – and to find out more about General Motor's commitment to ensure customer satisfaction by proactively identifying and addressing potential issues.
Or as Mark Ruess, president of General Motors North America said "The core of our success will come from satisfying our customers better than anyone else. One by one, person by person. I've set a personal goal that we are working to have the best customer service in the automotive industry."
Of course customer satisfaction matters, but what General Motors came to understand was that the first 90 days of vehicle ownership offered the best opportunity for enthusiasm, engagement and education of vehicle features. Education which, as anyone who has become frustrated trying to pair their Bluetooth device to their car knows, has become increasingly important given the high tech nature of new vehicles.
They also determined that increased customer satisfaction led to increased customer loyalty which added up to bottom line results. In fact, a 1% increase in sales retention equaled close to $700 million dollars in additional revenue.
Which brings me back to the question that has been kicking around my head since my trip. What can we do to cultivate customer satisfaction and enthusiasm for our organization within the magical 90 days:
Educate customers about how they can use the new accounts or services they have purchased through both individualized attention and educational resources such as frequently asked questions and informational videos.
Monitor internal (call center, branches, contact forms) and external (social media channels) conversations with the goal of identifying customers who may be experiencing difficulties.
Address issues one-on-one with customers.
Identify additional pain points and proactively look for ways to resolve or reduce the impact on customers.
While we look at the first 90 days as the most critical, the truth is improved customer service will not just benefit new customers, it will positively impact your entire customer base.