Sundin Associates Wins 5th Gold as Best Bank Marketing Firm in Massachusetts
Sundin Associates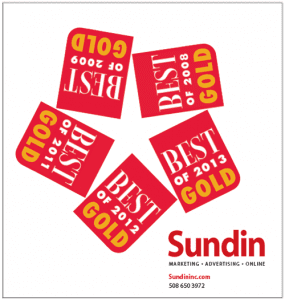 is once again the top choice of readers of Banker & Tradesman and has been awarded the trade publication's 2013 Gold Award as the Best Bank Marketing Firm in Massachusetts.
The honor recognizes Sundin Associates as the top provider of products and services to financial institutions in the Massachusetts market. It also places the agency among companies in the state that "provides the best services, and set an example for the rest of the state."
The annual Banker & Tradesman opinion poll measures the loyalty and satisfaction that leaders in the finance and real estate industries have with their vendors in a variety of categories. This is Sundin's sixth consecutive top-tier finish in the competition. The firm captured Gold as Best Marketing Firm in 2008, 2009, 2011, and 2012, and won Silver in 2010.
Kristin Brandt, president, and Edward O'Donnell, executive vice president, represented the agency at the Banker & Tradesman "Best of 2013" awards ceremony in Boston on October 16th.