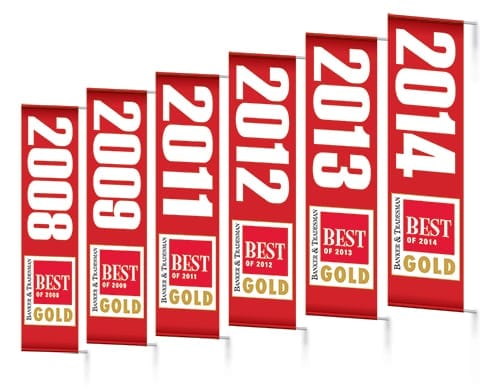 Sundin captures 6th GOLD award as the state's Best Bank Marketing Firm
Sundin Associates has won Banker & Tradesman's 2014 Gold Award as the Best Bank Marketing firm in Massachusetts. The honor measures the loyalty and satisfaction readers of the trade publication have with providers of service in the finance and real estate industries in a variety of categories.
This is Sundin's seventh consecutive top-tier finish in the annual competition. The firm captured Gold as Best Marketing Firm in 2013, 2012, 2011, 2009 and 2008, and won Silver in 2010.
Sundin president Kristin Brandt and executive vice president Ed O'Donnell represented the agency at Banker & Tradesman's "Best of 2014" Awards Ceremony at the Hyatt Regency Boston on October 14th.