In 2017, Kristin joined Team Perry, a Pan-Mass Challenge (PMC) team with the mission to eliminate gastrointestinal cancers – which represent almost 1/4 of all new cancer diagnosis, and 1/3 of the cancer deaths, each year – by funding research and treatment programs at Dana-Farber Cancer Institute.
Started in 2001 by Melissa Jacoby after the loss of her husband, Perry Levy to cancer of the small bowel, the Team, which was named one of the top 10 fundraising teams in 2018, has been a quiet force, raising over $7 million and appointing a Fellow at the Gastrointestinal Cancer Center (GCC) at Dana Farber. All without a website or any coordinated digital or social media presence.
But when WBZ-TV reached out to feature Team Perry, Melissa knew it was time to bring all the enthusiasm, stories and accomplishments together to take advantage of the increased exposure to both support the efforts of the over 80 riders on the 2019 team, as well as raise awareness of the impact made by the Perry S. Levy Fund for Gastrointestinal Cancer Research at Dana-Farber Cancer Institute.
Taking on the pro-bono project, our biggest challenge was not having enough content – it was figuring out how to organize the content, and pick a color palette for the site! That's because one tradition of the team is to wear a different, brightly colored team jersey each year on day 1 of the PMC. Given that we would be featuring these team photos throughout the site, what color would go with "everything"?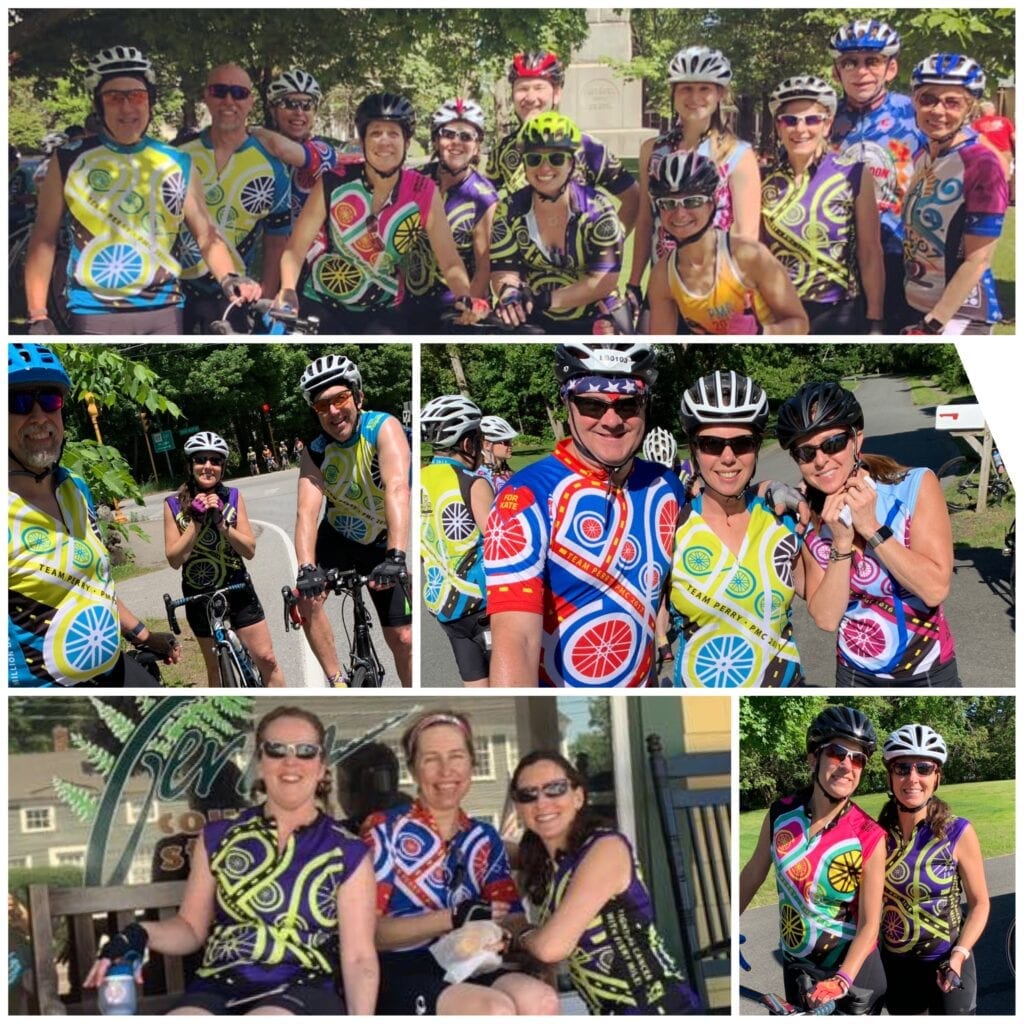 The new WordPress-driven website features a responsive design, the Team's logo (designed by Melissa's mom using Perry's initials), and uses the same color palette as the PMC – red and black – which worked with the kit colors, and strengthened the connection between the Team and the fundraising ride. We divided up the content into three categories – Our Story, Our Impact, and Our Team:
Our Story – The history of Team Perry including photos from the past, and information about the ongoing involvement of the Perry and Melissa's families.
Our Impact – Biographies of all the Fellows supported by the Perry S. Levy Fund, as well as links to articles and items related to research supported by the Fund.
Our Team – Links to the individual fundraising pages as well as a growing archive of photos and videos from past years.
In addition to establishing a new Facebook and Instagram presence through which we are sharing links to individual fundraising pages leading up to the PMC, we created a new group on the social fitness network, Strava, allowing riders to connect and offer encouragement as they prepare for the 2-day, 200-mile ride.
We look forward to continuing to support Team Perry as we find new ways to tell their story, and pedal closer to a cure for cancer.