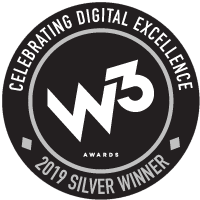 Medical pioneer Jonas Salk once said "the reward for work well done, is the opportunity to do more." But sometimes the reward is also recognition from industry professionals and peers, as with our recent receipt of three W³ Awards from the Academy of Interactive and Visual Arts.
Celebrating digital excellence by honoring outstanding sites, campaigns, and content created by agencies, designers, and creators worldwide, the W³ awards are the first major web competition to be accessible to agencies and firms of all sizes.
Receiving Silver for Social Content & Marketing – Contests & Promotions for Social was First County Bank's Small Business Socks campaign. The campaign, which ran during Small Business Week, created opportunities for members of the business team to connect with customers and prospects.
Also, capturing two Silver awards – for copy or writing and business blog – was our Agency's marketing blog. Written by agency president, Kristin Sundin Brandt, the "In Our Opinion" blog covers topics related to marketing, social media, content and financial marketing.
We are grateful to the Academy for the recognition, and to our clients for continuing to allow us to do great work!