Sundin Associates, a Natick-based marketing and advertising agency, merited high honors in two recent Web competitions.
2013 WebAwards
The agency's design and development of a new website for Framingham-based MutualOne Bank earned Sundin "Bank Standard of Excellence" honors from the Web Marketing Association (WMA) in a nationwide competition judged by industry professionals.
The Standard of Excellence award recognizes outstanding achievement in web development.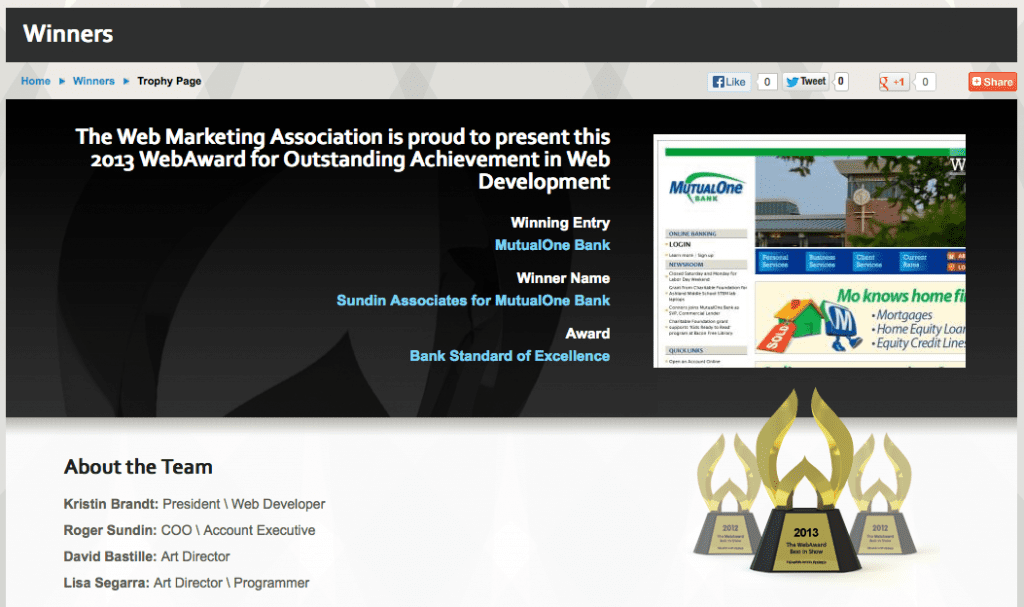 W3 Awards
Sundin also captured Silver awards for creative excellence in the 2013 international W3 Awards competition in two categories: blogs and social media/sports. The Silver award-winning entries were the Sundin Associates blog and Steve the Bike Guy.
The Sundin Associates blog is written by the agency's president, Kristin Sundin Brandt. It features financial services industry news and comments, as well as insight into current marketing and advertising trends and practices.
Steve the Bike Guy is a mobile bicycle service headquartered in Ashland. Sundin helps promote the service through popular social media channels including Facebook and Twitter.
The W3 Awards honor creative excellence on the web, and recognize the creative and marketing professionals behind award-winning websites, videos, and marketing programs. This year's W3 Awards received over 4,000 entries, which were judged by top-tier professionals from acclaimed media, interactive, advertising, and marketing firms.