During a recent girls trip to St. Louis for the Color Run, my friend caught me eavesdropping on a telephone call in the row behind us on the plane (I know, so rude, but some conversations are hard to ignore). Judging from the one side I could hear, it sounded like a marketing person was dealing with the fall out of something having published to the company's Facebook Page before it was supposed to. The culprit?
Automation.
The passenger mentioned he had accidentally hit "Publish" when working on a new post in WordPress, and although he had unpublished it a moment later, that must have been just enough time for the systems in place to populate the new content to the company's Facebook Page – triggering the phone call and, I assume, a frantic rush to find a wifi connection when the marketing person left the plane.
As the popularity of social media as a communications tool has grown, so have the services available to make it easier to schedule updates, or to update all your channels in one click. There is a lot to be said for utilizing these tools, but there are also drawbacks, including the one illustrated by my fellow passenger.
So when and how should you automate? It depends on your organization, your goals, and your need to control the content.
Manic Mommies serves as an example of a property where we selectively use automation. As I've written in the past, we use MailChimp to automatically aggregate and send a newsletter with new content from our site. We also use a service to automatically update our Twitter feed each time we publish something new to the site.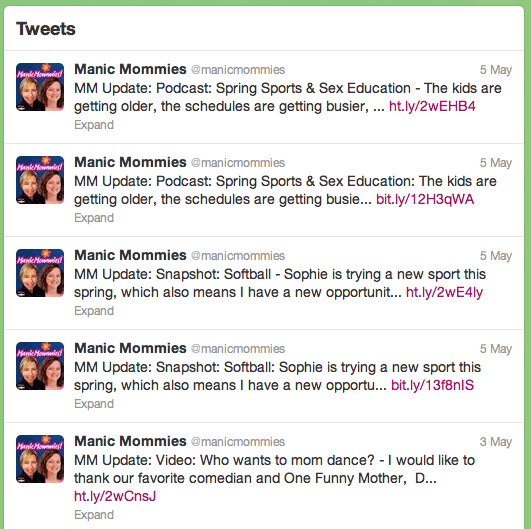 In both cases, we had to determine if the pros – better done than not at all – outweighed the cons which included limited control of how the content appeared, and in the case of Twitter, the lost opportunity to include mentions, hashtags and other strategies that could help drive traffic or increase engagement.
For most of our clients and here at Sundin Associates, we choose not to automate, but to schedule our updates so they hit how, and when, we want. While most tools allow for one click publishing across channels, we usually chose to create separate posts that take advantage of the best features of each channel. As you will see in the example below, the same update is written very differently for Facebook and Twitter.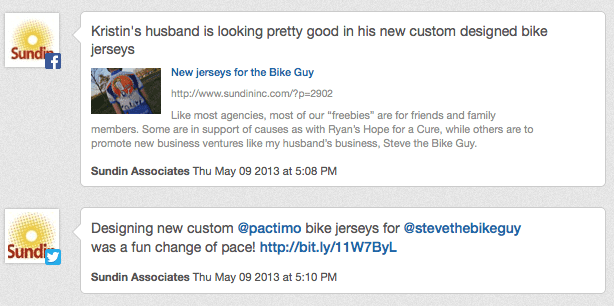 In addition to allowing us to plan updates such as office closings and holidays, scheduling gives us the opportunity to present a full editorial calendar to a client for marketing and compliance review.
Of course scheduling doesn't mean you can "set it and forget it" as there can be occasions where your scheduling tool can misfire, resulting in a post that may not have published quite the way you intended. Monitoring is important so any of these errors can be caught and replaced quickly.
Other examples of automation you should be careful to avoid – mixing business and pleasure (in the past I've become frustrated by friends who had their LinkedIn status automatically updated when they sent out a tweet, resulting in too much personal information being shared on the site); and speaking the wrong language (hashtags on your Instagram photos will translate well to Twitter, but rarely work on Facebook).
So should you automate your content? For me the answer is sometimes yes, but carefully and with much consideration.