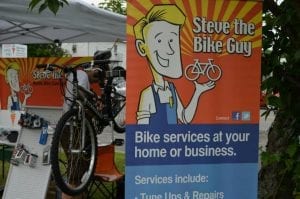 Soon after my husband signed the lease on a commercial space for his new bicycle studio, the debate started . . . What name would be hanging on the sign outside?
Starting his mobile bicycle service three years ago, we had named the business Steve the Bike Guy. Not only was it simple and easy to remember, but it inspired many fun spin-offs including the true, albeit a little naughty, "I was serviced by the Bike Guy" t-shirt.
We, purposefully, created a logo and color palette that was playful, bold and eye-catching – very different from today's current trends towards simplicity and "flat design."
With his expansion into a new retail space, we debated whether "Steve the Bike Guy" should be replaced with something less personal, less Steve-specific, and less bright/obnoxious. He was concerned the name and logo did not reflect his goals for the "Velo Studio" (velo = bicycle) or appeal to his target audience of high-end cyclists. He also didn't love the idea of having his face on the sign.
My concern as his marketing support was that his branding and name-recognition were his biggest (if only) asset and that by changing the name we'd be essentially starting from scratch. We knew from his work with racers and riders in the area that the name had not been a liability to growing the business, and we hoped that former clients passing the shop would recognize the brand. We had also invested resources of time and money creating supporting materials including, but not limited to, custom race jerseys.
Let's also not under-estimate the time and effort involved in creating a new corporate identity. Given that he would be working to get the studio up and running in just over one month, I didn't believe we had the proper amount of time to dedicate to a full redesign.
Eventually, we reached a compromise. He would commit to the name for one year, after which time we would evaluate the performance of the name and branding and determine if a new identity was warranted.
In the meantime, he would just have to get used to seeing himself on the side of the road.