If you are a Facebook administrator, you may have noticed a new "Promote" button appearing next to your most recent Page posts. Clicking on the button, you will be presented with a drop down menu of options where, as administrator, you can choose to pay to promote your post and, ultimately, gain more views.
But here's the trick – the people you are targeting are your Page's Fans. So the question is, if you are just reaching out to your existing Fans, is it worth paying extra to promote your post?
Let's look at the Manic Mommies Facebook Page to try to answer the question.
In July, there were twenty (20) un-promoted posts to the Page, each of which was viewed an average of 1,953 times. With over 6,000 Fans, that meant that only 32% of the people who Liked Manic Mommies saw items that were posted to the Page. According to Facebook, the average post from a company Page is seen by 16% of the Fans – meaning we are doing pretty well. But we still aren't reach all (or most) of our audience.
During the same month, we also paid to promote one post. At the end of the three days, and for a cost of $30, our promoted post was viewed by 5,841, including 3,697 people who saw our post because we promoted it.
So should you pay to promote your post? The answer, like most I give, is "it depends."
In the case of Manic Mommies, we use the promoted posts to highlight important updates, such as the announcement of our upcoming Escape, or when we are soliciting information from our audience, as with the survey conducted in the example below.
Promoted Posts are just one of the many new promotion products Facebook has been rolling out this year, and should be considered as one of the tools in your every-expanding toolbox.
How we set up the promotional post
Step one:
Select post and click promote on the bottom right. Keep in mind, only recent posts (those added within 3 days) can be promoted.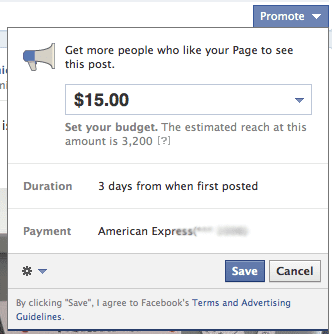 Step two:
Select your budget based on your goal for this post. Options are set by Facebook and may be limited depending on the age of the post or the potential reach.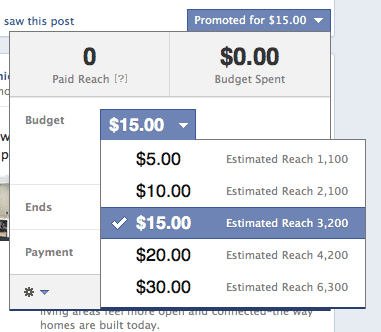 Step three:
At the end of the campaign, review the results to determine if you were able to increase your post's reach, and how it compares to the estimate provided by Facebook. (In this case, we reached nearly 500 more people than expected).
Have you tried promoting a post? What were your results?