Recently those charged with managing a Facebook Page were greeted with this screaming message:

To give you some background – in an attempt to combat fake news, Facebook introduced the capability to verify a domain in 2018 to "ensure that only verified owners can edit the way their content appears on Facebook." Verified Pages received a gray badge next to their Page name and the ability to "control editing privileges of your links and other content to prevent misuse of your domain and to keep bad actors from spreading misinformation." (Source: Facebook)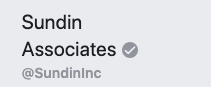 With the removal of the badges, Facebook recommends owners & managers take the time to review their Pages to ensure visibility and engagement. Among their suggested best practices are:
If you own a business with a physical location, add your address
If you have multiple locations, consider using your main office or corporate headquarters.

Add a profile picture and cover photo to your Page

If you have a website, add it to your Facebook Page

Update your hours
Or make sure they are up-to-date.
Even if you don't have the gray badge, it's a good reminder to take a few moments from time to time to review what information is on your Page, and what you could add (or remove).
At this time, we don't know how our ability to edit posts will be impacted by this change, or what other changes will be coming to Facebook (because let's face it, there will be more changes coming).
Pages for those Sundin Associates clients utilizing our social media services will be reviewed, updated and documented before the change on October 29th. If you have any questions or would like us to review your Page, please give us a call or drop us a line!