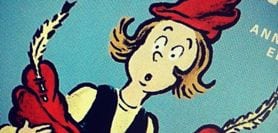 I wrote recently about my dissatisfaction with my LinkedIn profile, and more specifically, the Summary section.
After many rewrites and re-readings I have (finally) posted a new description – but before the "big reveal" let's discuss what I wanted to change.
Here's what I was starting with:
As Vice President at Sundin Associates my responsibilities include managing client accounts as well as guiding all internet and new media projects for the agency, including web site development and management.
With my neighbor and friend, Erin Kane, I began co-hosting "Manic Mommies," a new-media weekly podcast and blog popular with parents trying to manage the chaotic combination of work and family in 2005. The podcast is regularly featured in the top Kids & Family podcasts in Apple's iTunes Store.
I enjoy teaching individuals, businesses and other organizations how they can harness the power of popular social media tools to communicate with customers and prospects.
While the description is accurate, except where I said I was Vice President long after I had been promoted, it is also incredibly boring.
With my new Summary, I was looking to create a description that told part of my professional story, showed my personality, and left someone with an impression of who I am, what I can do and why they might want to connect with me – which I felt was especially important if the reader was coming to my profile either through a LinkedIn search or because we met at some point and exchanged cards.
And I wanted to achieve these goals within the LinkedIn-imposed 2,000 character limit.
It took me a few weeks, and more than a few edits – the character limit proved to be a challenge I hadn't considered in my original drafts – but I finally published my new Summary this weekend:
I am a professional communicator wearing almost as many hats as Bartholomew Cubbins.
I joined my father, Roger Sundin, and the team at Sundin Associates, a marketing & advertising agency, on April Fools Day 1996, opening myself up to many potentially hilarious practical jokes. I give all much credit for not taking advantage of the opportunity.
Now president of the agency, I work with our clients and team to craft compelling communications of all shapes and sizes, utilizing a range of mediums and media. I also oversee an ever-expanding suite of online services offered by our agency.
As my professional life expanded, so did my personal, and I now have two children who astonish me with their own communications skills. When you have a moment I'll share some of the "love" notes left for me by my daughter.
In 2005, an interest in exploring what is now known as "new media," inspired me & my neighbor Erin Kane, to start Manic Mommies – a podcast and blog for moms managing the chaotic combination of work and family. Eight years later, the show has been downloaded over 3 million times, and attracted the attention of brands such as Chevrolet, Intel, Brooks Running & Real Simple.
Having come up with the name "Manic Mommies" on the spur of the moment, I am still amazed to learn that many moms now use the term to describe themselves & their lives.
Growing up, I wanted to be a teacher or perform on Broadway. Having achieved neither of these career aspirations, I've found a way to channel my desire to do both as a presenter. Whether speaking to clients, colleagues, or at conferences, my goal is to tell a story that both educates and entertains my audience.
The other hats you might see flying off my head as I dash by? I am also an amateur photographer, marketing coordinator for my husband's business, Girl Scout leader, triathlete, friend, sister, social coordinator, and chocolate chip cookie aficionado.
But enough about me. I'd love to connect to find out about you.
With my new Summary complete, at least until I decide to edit it again, I will be taking another look at the my profile to see what other improvements I can make. On the table – a new headline, a new photo, and additional information about projects, publications and causes.