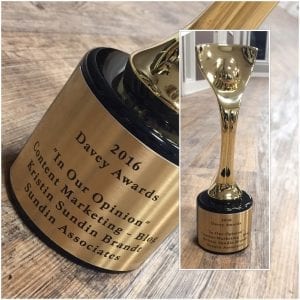 Recently, the Sundin Associates marketing blog, found under the category "Our Opinion," was awarded a Gold Davey Award by the Academy of Interactive and Visual Arts (AIVA).
It would be easy enough to leave it at that – sharing with you all the facts available from their press release. But this award is more meaningful given that 2016 was the year I decided to commit to blogging regularly for Sundin Associates.
It's not that we haven't had a blog on our website before – it's that since launching our first blog-ready website in 2010 (thank you Wayback Machine for helping me figure that out) our blogging efforts have been mixed. Our challenges are no doubt familiar to most organizations:
Who was going to write?
What were they going to write about?
When were they going to find the time?
And what, ultimately, would we get for the efforts?
But as we marked the 40th anniversary of when my father, Roger Sundin, first opened the doors of Sundin Associates, it seemed like the perfect opportunity to commit to writing regularly. At the time of our founding, the concept of a "marketing" agency was groundbreaking and the first of many ideas that established Roger and the Sundin Associates team as thought leaders in the banking industry here in New England.
My goal was to extend this tradition of thought leadership by using our website as a platform to raise awareness of our agency outside of New England, to encourage our clients to "think different," and to acquire new clients and new speaking opportunities.
Since committing myself to the effort this past May, I've spent a lot of time writing. Probably more than I care to consider. And figuring out what to write about hasn't always been easy. Rather than following the advice often shared by content experts, to look at keyword lists or other sources to ensure I was writing about things that would generate significant traffic, I wrote about things that inspired me.
I aired my frustrations about the unrelenting focus on millennial marketing and addressed issues including copyright infringement and copyright infringement (which, unfortunately, was not the only time I've had to write about this topic). I shared information on topics on which we were still learning and considered how to use tools I knew clients were purchasing. And I considered my personal, punctuation-related challenges.
Along the way, I have been pleasantly surprised to find that the items that resonated most with readers, often were my most personal, or favorite topics or posts. I was reminded that I didn't have to write often, most months I posted no more than 2 opinion items, but what I do write has to be done well (quality over quantity). I found having a deadline such as our automated monthly newsletter helps motivate me to keep writing. And I learned it helps to keep a running list of blog topics in my notebook for when I felt a little light on inspiration.
And for those efforts? We have seen more traffic to the site, no doubt in part to the use of email marketing, as well as an increase in new client inquiries and invitations to speak at industry events, schools, and conferences.
The moral of the story – blogging for business is just as much work, if not more, than I expected, but has been completely worth the effort.
About the Davey Awards
With nearly 4,000 entries from across the US and around the world, the Davey Awards honors the finest creative work from the best small agencies, firms, and companies worldwide.
Created to honor the finest creative work from the best small agencies, firms, and companies worldwide, the Davey Awards are judged and overseen by the Academy of Interactive and Visual Arts (AIVA), a 700+ member organization of leading professionals from various disciplines of the visual arts dedicated to embracing progress and the evolving nature of traditional and interactive media.
Current membership represents a "Who's Who" of acclaimed media, advertising, and marketing firms including Code and Theory, Condé Nast, Disney, GE, Keller Crescent, Microsoft, Monster.com, MTV, Push., Publicis, Sesame Workshops, The Marketing Store, Worktank, Yahoo!, and many others.
For a full list of winners, visit DaveyAwards.com.