A funny thing happened to one of the Facebook Pages we manage. . . someone suggested a change to the Bank's domain, potentially moving traffic from the legitimate website to a suspicious site.
According to Facebook the suggestion, which was "provided and verified by Facebook users," would be automatically updated if they didn't hear back from us. Information suggestions for a Facebook Page are not unusual – what is questionable is the nature of this request, and the site to which it is linking.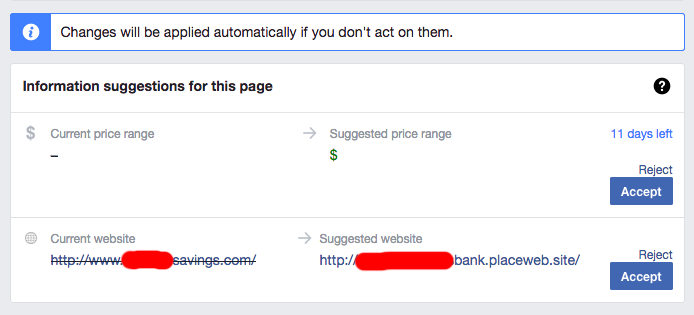 A quick Google search reveals that our client is not the only bank to have a new site established without, we assume, consent.
While Facebook's policy of allowing the community to change a business Page without content is questionable, there are ways to protect yourself from these changes:
Pay attention to notices. We caught this because Facebook informed us of the change – giving us two weeks to reject the change.
Check your settings. This is a good opportunity to double-check the people you have granted access for Page management and determine there isn't any other suspicious behavior.
Verify your business on your Facebook Page. A phone call to a number of your request – we were able to use a direct line associated with the agency – allows you to "verify" your business is authentic. The additional benefits, according to Facebook, are that your Page will appear higher in search results. Don't forget, you can also add your Page to Facebook Business Manager which will allow you to verify your domain and add another level of security.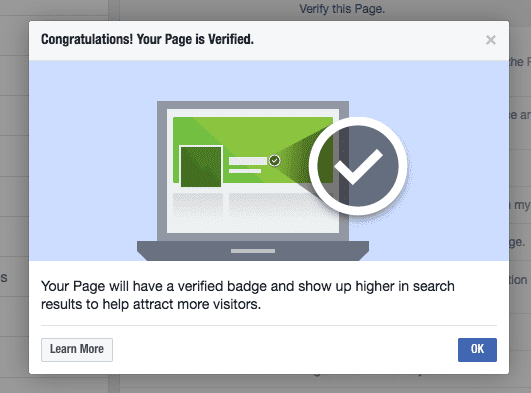 Check to see if it's anywhere else. We want to make sure the false domain doesn't start to "leak" onto legitimate (or other) websites. A Google search for the fraudulent domain revealed an unofficial Facebook Page for our client, which as a verified business they can claim and unpublish. Using Google to search allowed us to also determine if the URL appears anywhere outside of Facebook (in this case it didn't).
Attempt to have the unauthorized page taken down. This may not be easy – but you and your team may want to contact the website, or their service provider, with a cease and desist notice.
Set up ongoing monitoring. Use Google Alerts or another service to monitor for mentions of your organization's name, URL or other information which make signal a spoof or fraudulent site has been set up.