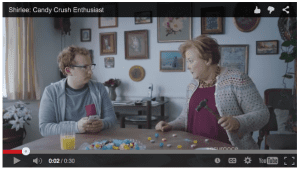 At the New England Financial Marketing Association's Winter Conference, we had the pleasure of hearing from Thales S. Teixeira, assistant professor of business administration at Harvard Business School, specializing in marketing and advertising. (Also, the first speaker I've seen who actually knows how to use Prezi).
As part of his presentation "Why Consumers Aren't Paying Attention to Your Ads and What You Can Do About it," he addressed the increased use of humor in advertising.
Through examples, Professor Teixeira demonstrated that, through the use of humor, brands can maximize their advertising efforts both by grabbing (and keeping) the audience's attention as well as encouraging repeated viewing and sharing. Take for example this commercial from Nolan's Cheddar, which was covered in AdWeek magazine.
But while some humor is good, according to Professor Teixeira, too little or too much can reduce a commercial's effectiveness. For example, when comparing three Pepsi commercials he found the commercials judged to have the lowest (Catch) and the highest level of humor (First Date) was less effective than the one ranked in the middle:
Insurance companies have come to rely heavily on humor in their advertising. Professor Teixeira traces this back to the original funny-filled insurance ad from Aflac:
As friends and co-workers know, my favorite funny insurance commercials are the current "that's not how this works" series from Esurance.
Not surprisingly, banks and other financial institutions are trying to utilize humor in their advertising – You can see several examples in the Financial Brand's collection of YouTube videos. Maybe because of all the excitement around here due to the Patriots in the upcoming Super Bowl, this one from FirstBank cracked me up:
What funny commercials do you think work best (or least)?
You can read the full details of the study in Professor Hale's paper: Why, When, and How Much to Entertain Consumers in Advertisements?