Over the past five weeks (or more, depending on where you live), we have seen a major shift in the way people are working and connecting with colleagues, clients, friends, and family. As our bankers have started working from home, one noticeable change has been the shift to conducting meetings and everyday conference calls by video, which in the past was often difficult due to in-bank firewalls and other security restrictions.
Just like everyone else, we find ourselves spending a lot more time in front of the camera as we've shifted to remote work and regular video conferencing – here are some things we've learned:
Look for the light
The best way to ensure you look your best is to avoid hiding in the shadows. The easiest, most affordable option is to face sources of natural light or use a strategically placed lamp. Need to shift your workspace throughout the day, or don't have a good source of natural light? A ring light with stand is a good option.
Windows facing the desk provide great light even on cloudy days.
A ringlight on a stand gives you more flexibility. Photo credit: Dena Blizzard, One Funny Mother
Find your best angle
While it may be incredibly comfortable to sit with your computer or device in your lap, consider what people are seeing. Beyond making it appear you are looking down on people, the angle is never flattering. Placing your camera at, or slightly above, eye level, ensures you get the best angle.
This angle guarantees you will be looking down on your audience.
Raise up your device to improve your angle.
Check your background
While Zoom allows you to use virtual backgrounds to dress up your video – and there are a growing number of options which allow you to conference in from the deck of the Millenium Falcon, Andy's bedroom from a Toy Story,  or at the counter of Bob's Burgers – virtual backgrounds can also be distracting and glitchy. Consider instead how you can use what you have to make your own background.
Start by stepping back to look at your background, considering if what you see is too cluttered, distracting or even too political. Think people aren't paying attention? Think again! Keeping your back to a wall gives you more control, and limits the risk family members will accidentally walk into your meeting.
Step back from the space to take a look.
Then take a look through your camera lens.
Keep the mess off-screen
Focus on what's in the camera's frame, and move anything you don't want to be seen off-screen. (And do keep in mind that any mirrors could be providing more of a view than you, or your colleagues, want to share, as this television reporter discovered when she accidentally shared her husband showering).
Listen up & use the mute button
In addition to thinking about how you look, consider also how you sound. It's tempting to use the speakers and microphone built into your computer, but you will sound clearer if you use a pair of headphones. Use your video conferencing software or computer to test both the speakers and the microphone, comparing how you sound through the computer, as well as with Bluetooth or wired headphones.
Also, figure out now how to engage the mute button – so you can switch quickly when the dog starts to bark, the kids start calling, or you just want to take a sip of water.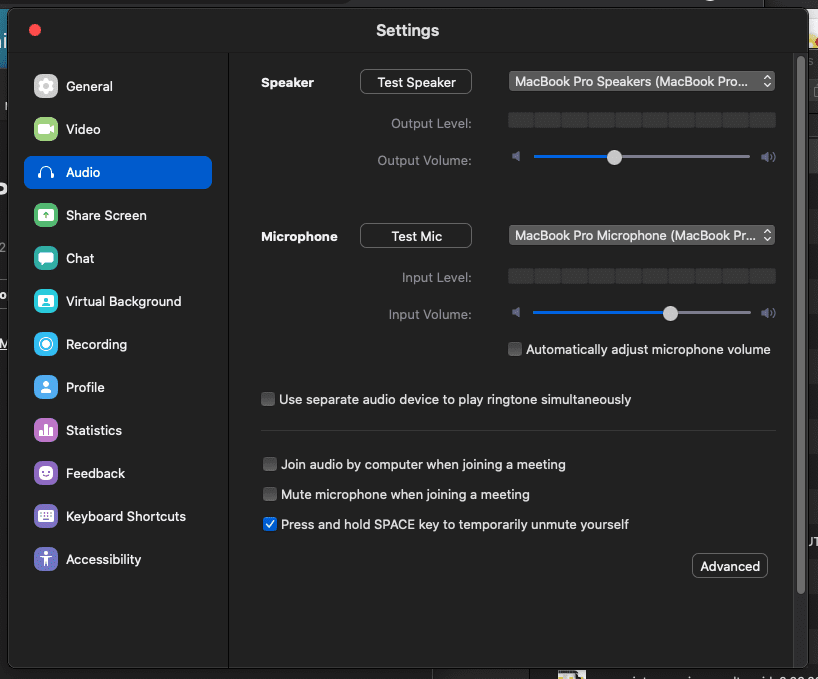 Be ready for a quick change
One of the advantages of working from home is you don't need to "dress" for work. But there are times you may have to jump on an unplanned video conference call for which you may not be properly attired. Having a jacket with a nice collar and/or a scarf on standby makes it easy to quickly get dressed for your meeting. And, at a time when many of us are overdue to visit our favorite hairdresser, a stylish hat is totally acceptable!
While these tips are meant to help you look your best, the most important thing to remember is that each time we turn on the camera is a chance to have a conversation and make a connection at a time when many of us are feeling disconnected.