We are pleased to announced that two enterprises affiliated with our agency have captured a total of four awards in the 2012 international W3 Awards competition.
The W3 Awards honor creative excellence on the web, and recognize the creative and marketing professionals behind award-winning websites, videos, and marketing programs. There were over 3,000 entries in this year's competition, judged by top-tier professionals from acclaimed media, interactive, advertising, and marketing firms.
Steve the Bike Guy
Our social media efforts in support of Steve the Bike Guy, a mobile bike service headquartered in Ashland, MA, were awarded a Gold W3 Award for social media/self promotion. The award recognized the agency's work in promoting the services of "the Bike Guy" through popular social media channels including Facebook and Twitter. In addition to the Gold award, Steve the Bike Guy was awarded Silver in the social media/sports category of the competition.
Married to our own Kristin Brandt, owner Steve Brandt is a licensed USA Cycling mechanic bringing bicycle services including repair, maintenance, assembly and custom bicycles to homes and businesses in eastern Massachusetts.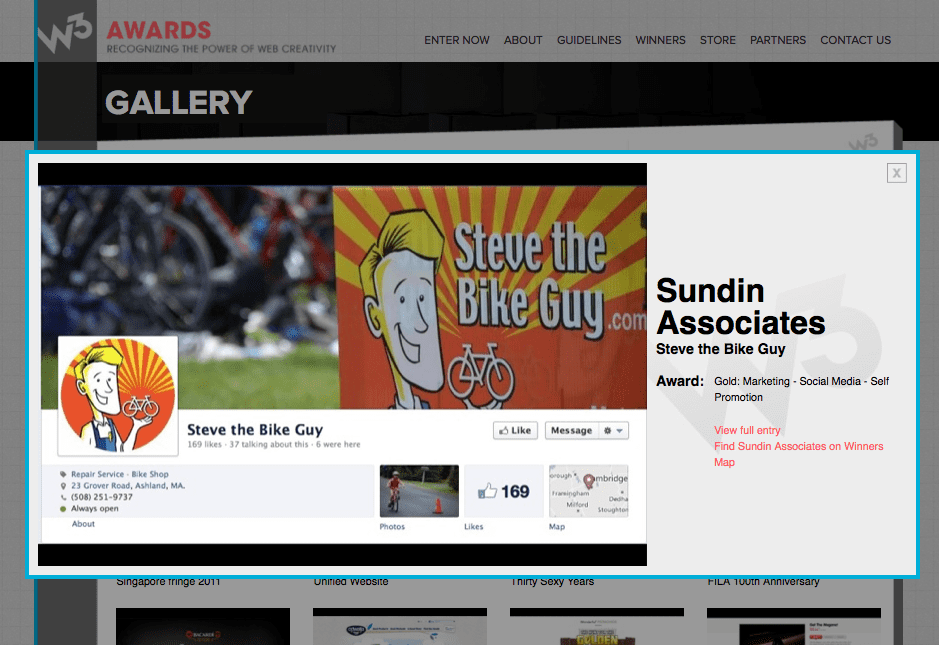 Manic Mommies
For the third consecutive year, Manic Mommies, a family/parenting web site, captured Silver awards in the W3 competition, for website copy/writing and podcast.
Co-founded in 2005 by Kristin and her former neighbor Erin Kane, Manic Mommies is a community for moms (and dads) managing the chaotic combination of work and family. Followers benefit from the co-founders' personal experiences as well as advice from experts on the topics of work/life balance and more.
Manic Mommies includes a bi-weekly podcast and an annual Escape weekend at various destinations around the country.