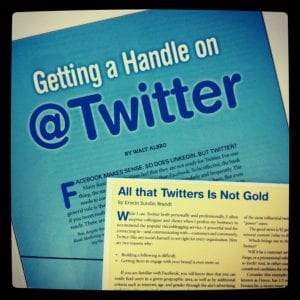 Readers of the June edition of ABA Bank Marketing magazine will find several great case studies of how community banks Baylake Bank, Avidia Bank and North Jersey Community Bank, are utilizing the micro-blogging service, Twitter. Accompanying the article is a sidebar by our own Kristin Brandt explaining her hesitancy to recommend the service to clients:
While I use Twitter both personally and professionally, I often surprise colleagues and clients when I profess my hesitancy to recommend the popular micro-blogging service. A powerful tool for connecting to and communicating with customers and community, Twitter (like any social channel), is not right for every organization. Here are two reasons why:
• Building a following is difficult.
• Getting them to engage with your brand is even more so.
If you are familiar with Facebook, you will know then that you can easily find users in a given geographic area, as well as by additional criteria such as interests, age, and gender through the site's advertising tool. Using this same tool, you can target advertising to a group of your selection to draw attention to your bank's Facebook Page, and build a base of Fans (or Likes).
For example, there are 12,640 Facebook users in Natick, Mass., where our office is located. Of these users, 10,040 are between the ages of 24 and 54. And of those,100 people are interested in bicycles. (Cool, right?)
Twitter does not have similar functionality (yet). Sites like WeFollow.com and LocalFollow.com can help you to identify users, but the results are hit-and-miss. For example, using the scenario above, according to WeFollow, there are 16 Twitter users in Natick,Mass., which is probably low, but I don't know by how much or if they are actively using the service.
As for how your institution encourages engagement (or, in Twitter-speak, retweets and responses), consider these statistics — in a three month period only 27 percent of Twitter users tweeted and 50 percent of the most influential tweets consumed were generated by just 20,000 "power" users.
The good news is 92 percent of people on Twitter said they would retweet content(relay to their followers) if it was "interesting."
Which brings me to this question: How will your bank be using Twitter?
Will it be a customer service channel like Bank of America or Wells Fargo, or a promotional vehicle for distributing news, events, photos and so forth? And, in either case, are those items interesting enough to be considered candidates for retweeting or replying by the average consumer?
Consider this example: Heather Armstrong, a popular blogger known as Dooce, has 13 million followers on Twitter. According to Favstarfm.com. a recent tweet was retweeted by 712 users and marked as a favorite by an additional 216 —a reply rate of 0.06 percent.
Given a similar reply rate, what could your bank expect for engagement if you have 200 followers? How about 2,000?
So am I saying your bank shouldn't be on Twitter?
No. But what I am saying is that you need to evaluate carefully, consider your potential investment of time, money and additional resources, and set realistic expectations about performance and engagement should you decide to start tweeting.
Click here to read the article (subscribers only).