If you've noticed an increase in pedestrians, many gazing intently at their phones, in your area, it's a good bet that most of them are playing Pokémon Go.
Released less than one week ago, it's not a stretch to say the augmented reality game has taken the country by storm with players of all ages using their GPS-enabled smart devices to capture and train the virtual critters, as well as pick up supplies. Unlike most popular games, Pokémon Go requires players to get up and go outside because, according to Vox.com, "As you move around, different and more types of Pokémon will appear depending on where you are and what time it is. The idea is to encourage you to travel around the real world to catch Pokémon in the game."
The game has already received significant coverage, mostly focused on the negatives (including several articles inspired by a college friend who found his church-turned-house was now a Pokémon gym). But this idea, that people who may normally be stuck inside are now wandering the streets of a downtown area, visiting public places and landmarks in search of new critters, supplies and opportunities to train, has me wondering . . .  is there opportunity for businesses?
Let's look for a moment at downtown Natick, as it appears on the Pokémon Go app – my avatar is standing on the corner next to my office with the town center "transformed" into a mecca of Pokestops (blue icons where players receive Pokéballs, eggs and other supplies) and Gyms (yellow towers where players go to train their Pokémon through battles – and yes, I continue to think this is the virtual equivalent of cock fighting).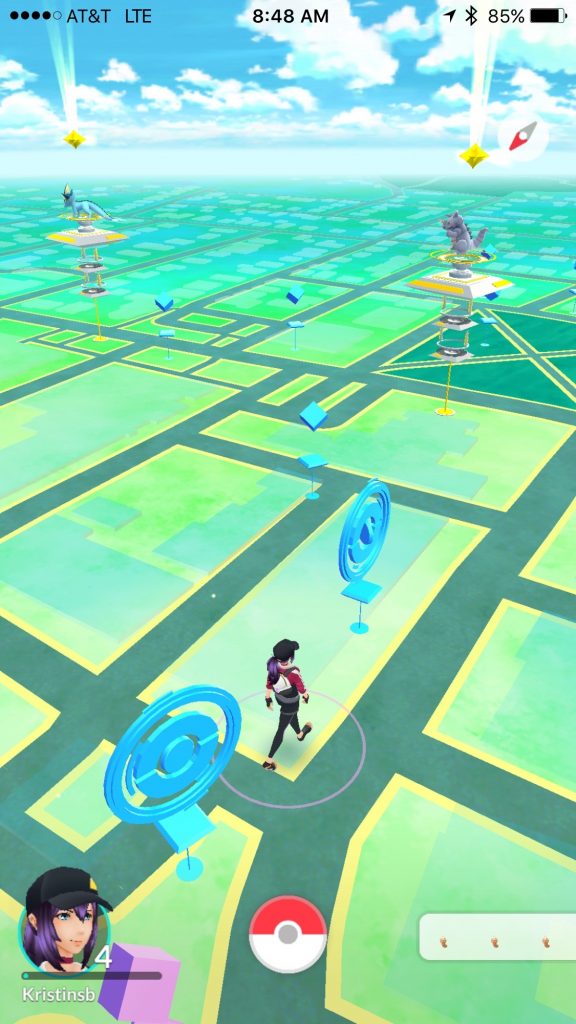 Tracking down Pokéstops brings me to local landmarks, of which it turns out we have quite a few:


While a trip to the gym lead me to the steps of our local church: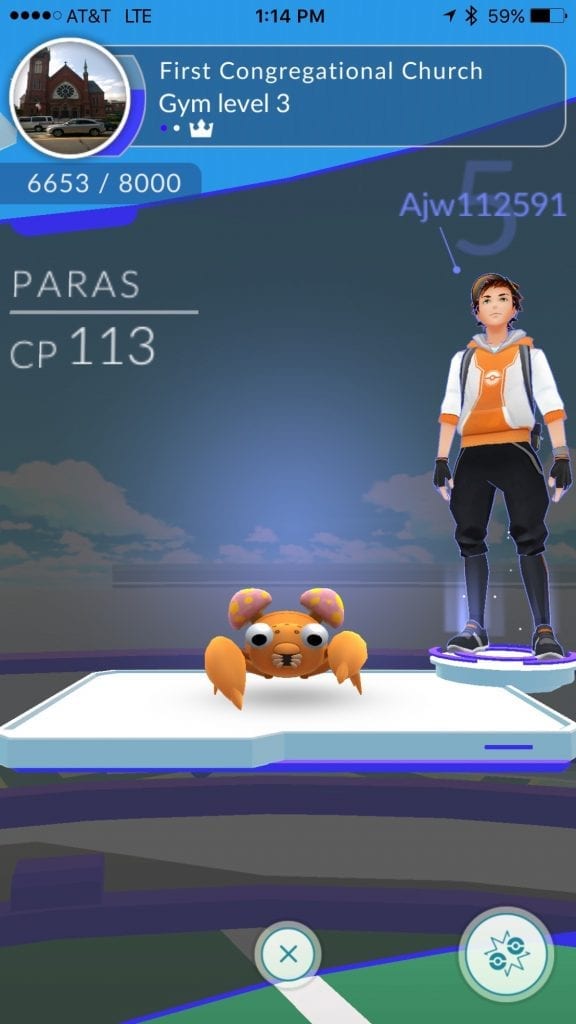 Which, conveniently, always encourages people to stop and rest by leaving Adirondack chairs on the front lawn – just perfect for a tired hunter and her herd of Pokémon.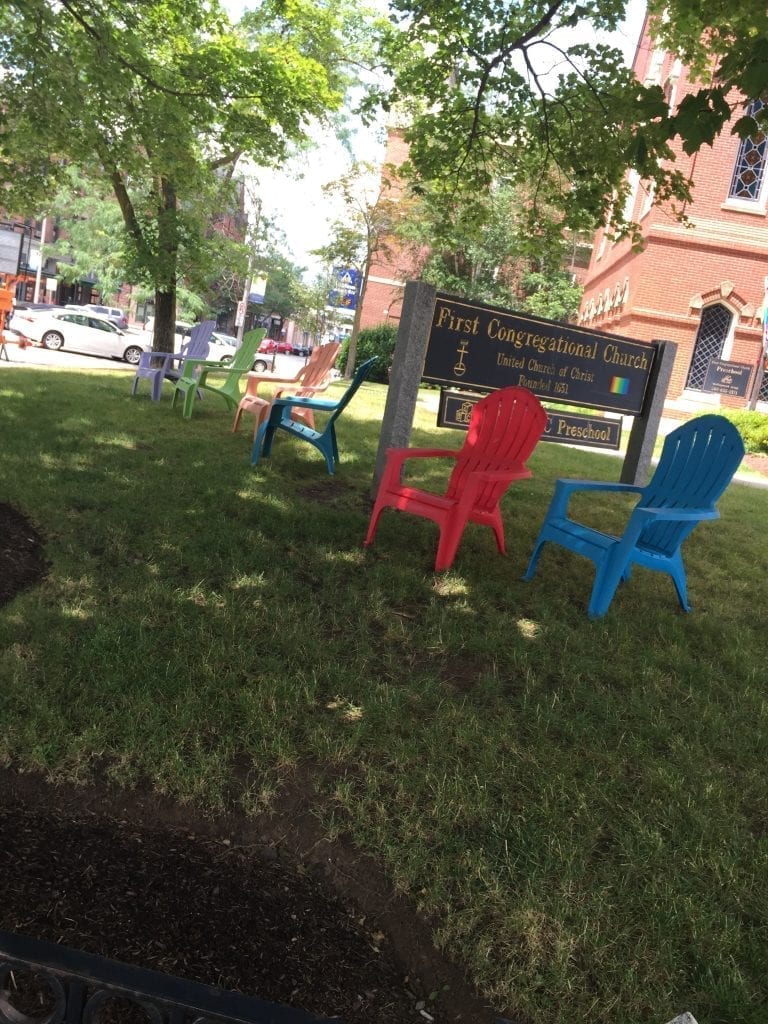 And this, is where we start to see the opportunity.
Drive Traffic
For some businesses, like a local library, being named a Pokéstop ensures automatic foot traffic to the outside of your building – but how can you bring that traffic in? According to the Minuteman Library Network website there are 208 titles throughout their system with the word "Pokémon" in the title. Use yard signs to encourage visitors to come inside to check out what's available.
Or, consider hosting Pokémon "hunting" tours in, or around, the library with players using incense to lure in new Pokémon.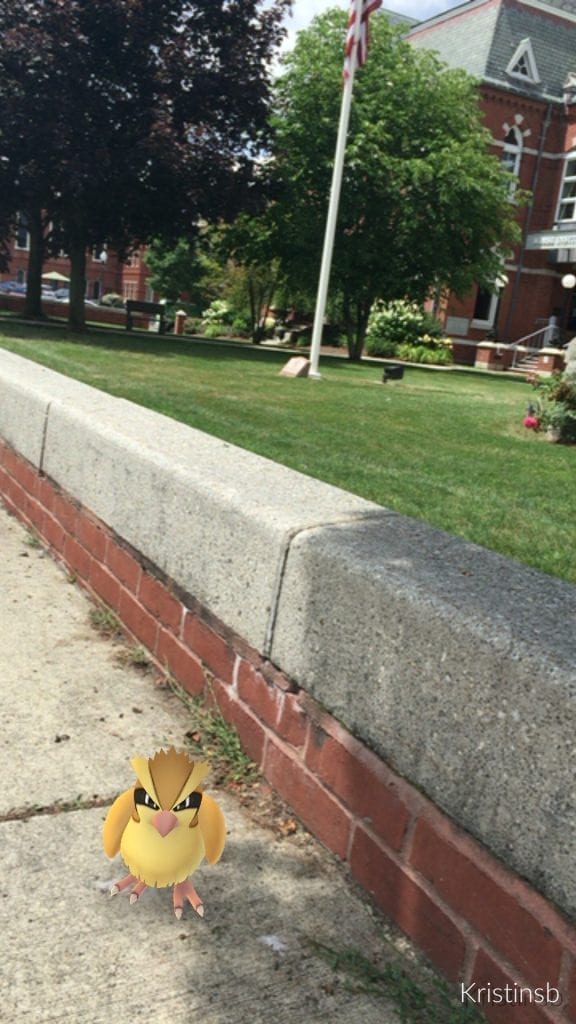 Look who I found outside the Natick Public Library!
Give Them a Place to Rest
Despite walking past the place nearly every day, I have never seen anyone sitting in the Adirondack chairs outside of the church. But today, with the sun shining brightly and a herd of Pokémon needing to be trained, I predict there will be several people congregating on the spot throughout the day.
Encourage Tagging
Unlike Pokéstops and gyms which have set locations, Pokémon can be found anywhere there is a GPS signal. In addition to catching the critter, players can also take photos of the Pokémon where they found it, which also offers the opportunity to share and tag the photo on any popular social media channel.
Consider rewarding customers with a special discount or freebie when customers tag or share their photos. Don't have anything you can give away? How about a donation to the local humane society for each critter "adopted" and tagged in front of your financial institution or business.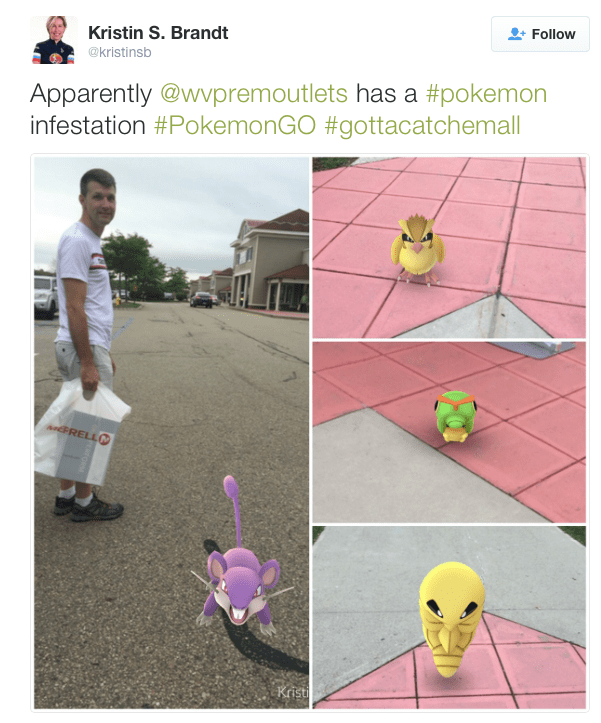 The Pokémon are loose! What will you do to encourage players who "gotta' catch them all" to play with your business?
Save
Save
Save
Save
Save
Save
Save
Save
Save