Each year our agency, like most businesses, sends out holiday cards to clients, colleagues, vendors, and FOAs (friends of the agency).
At a time when most of us are receiving a ton of holiday mail, our goal this year was to cut through the clutter with a holiday card that would engage and amuse recipients.
Our idea – snowflakes. Specifically, color scratch snowflake ornaments from Oriental Trading Company.
Each member of our team was invited to design their own snowflake, which we then used in the design for our card. In each card we included a cellophane wrapped snowflake (to protect the black coating), a scratching stick, and an invitation to share their "creative genius" with us online or via email.
In addition to hanging the snowflakes on a tree in the office, we posted each employee's snowflake on our Facebook Page. As we receive new snowflakes from recipients or get visitors to the office to design their own, we will add to the album.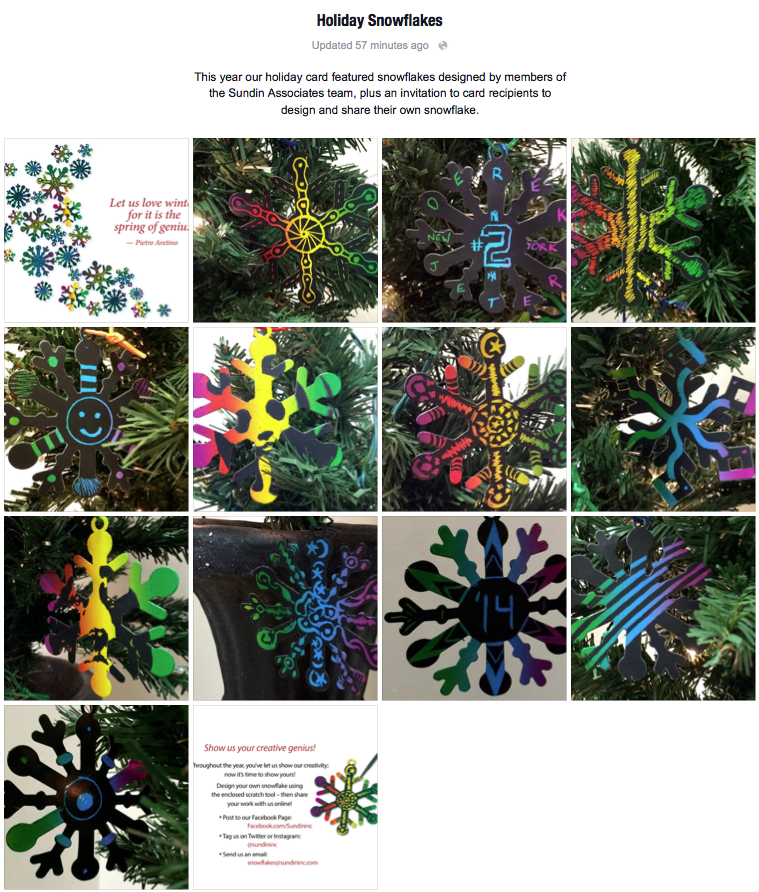 Having sent the cards just last week, we have already received positive response from recipients –  both thanks and photos of snowflakes designed by our super-talented clients and friends.
As we head into 2015, the Sundin snowflakes serve as a reminder that we should always be looking for opportunities to take something we've done for years, and turn it into an opportunity to engage customers and community.
Did you receive a snowflake from Sundin? Make sure you share your work by tagging us on Instagram or Twitter, sharing to our Facebook Page, or emailing to snowflakes [at] sundininc.com.