My husband owns a lot of tools; some collected through our adventures as homeowners, and others inherited from his grandfather. Each new home improvement project seems to require a new acquisition – compressors, pneumatic nail guns, laser levels – leaving him with an impressive array from which to select (or let neighbors borrow).
But more often than not, the tools he uses most are not the new ones, but the basics, including a glue gun from his grandfather's collection that works better (and hotter) than anything you can buy on the market today.
In marketing and communications, we talk about available channels as "tools in our toolbox." With the popularity of social media channels, we are seeing a resurgent of an old tool, content marketing, as well as the arrival of new, shiny tools — Facebook, Twitter, LinkedIn, Instagram, Tumblr, YouTube, Vimeo.
But just like not every home improvement projects requires a "multi-beam rotary laser level" or a "high-performance pneumatic nail gun," neither does every marketing initiative need to start with a robust content marketing strategy or social media campaign.
Case in point – As I wrote about recently, I've been working to provide marketing support for my husband's business. One of our strategies for the winter months is to promote "fat bikes" as a way for riders to extend their season and drive sales into the Studio.
We've plastered available online channels with the messaging:
Featured prominently on the home page.
Featured on right side of each page.
Included in newsletter to friends and customers.
Added to the Studio's Facebook Page.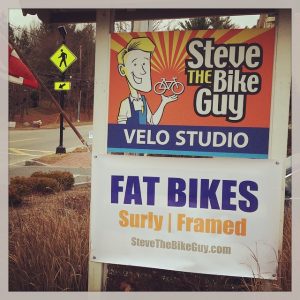 Reviewing the results, and considering what else we could do to spread the word, I realized we had forgotten perhaps the most important channel – the sign outside the Studio.
With a reported 26,000 people driving by the Studio every day, many of them cyclists probably itching to get back outside, we were missing a huge opportunity to talk to them about fat bikes.
The solution – a banner, designed online and ordered through Vistaprint. An inexpensive, easy-to-produce solution to connect with potential customers, that we overlooked when considering all the marketing tools in our toolbox. (It was one of those "forehead slapping moments" which was accompanied by a quoted sound effect from Homer Simpson),
With the new banner now hanging at the Studio, I'm already planning additional messages:
Planning your next campaign, don't forget sometimes, you just need a hammer. Or a vinyl banner hanging outside your place of business.