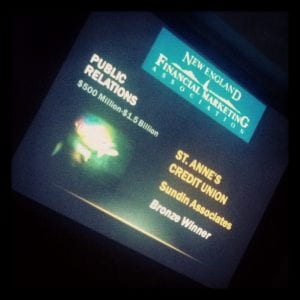 Several years ago, as I listened to Marketing Over Coffee, one of my favorite marketing-related podcasts, hosts Chris and John shared a very simple piece of advice. If you are waiting for someone to drop an award in your lap, you are going to be waiting for a long time. Or, to be more specific, if you want to win awards, you need to do something about it.
But the awards process can be time-consuming and expensive. Which begs the question – is it worth it?
In some industries, the answer is clearly, yes. For example, according to an LA Times article, while an Emmy award may not translate into increased audience, Showtime's "subscriber base went from 12 million to 20 million when programs such as "Weeds," "Nurse Jackie," "Dexter" and "The Tudors" began winning Emmy awards and nominations."
For others, it can be difficult to directly connect an award to a new client, or new work, but there are several other benefits to going through the awards process:
Reflection – With all us moving quickly from one project to the next, going through the award application process can be an opportunity to reflect back on the work completed, and the goals accomplished. In our case, the exercise of applying for awards also provides us with the content we need for our portfolio, our website, or new business activities.
Validation – It often feels like it is easier to criticize than to praise, to complain rather than compliment – but even the best, most confident, most talented group of people needs to be reminded they are doing a great job. Awards give us that opportunity, and when collected on a "wall of fame" can provide a daily reminder of work well done.
Confirmation – For current clients, awards can provide confirmation they are working with an organization that remains creative, innovative and isn't resting on their laurels.
Promotion – It's easy for agencies like ours to forget to take the time to "practice what we preach" and promote ourselves. Public voting competitions like the Podcast Awards or Banker & Tradesman's "Best of" competition provides the catalyst to put some of our best practices to work for ourselves, as well as test new strategies.
Inspiration – Putting recent work up for comparison with others in your industry can act as a catalyst to continue to improve! It also allows us a glimpse at the people and process behind some of the fabulous works that are being created by others.
Last night we had the pleasure of seeing clients, friends and colleagues at the first annual New England Financial Marketing Awards, during which two of our client projects won awards – St. Anne's Credit Union's fairies financial education program and Jewett City Savings Bank's coin campaign.
It was a great night and we are already looking forward to participating again next year!