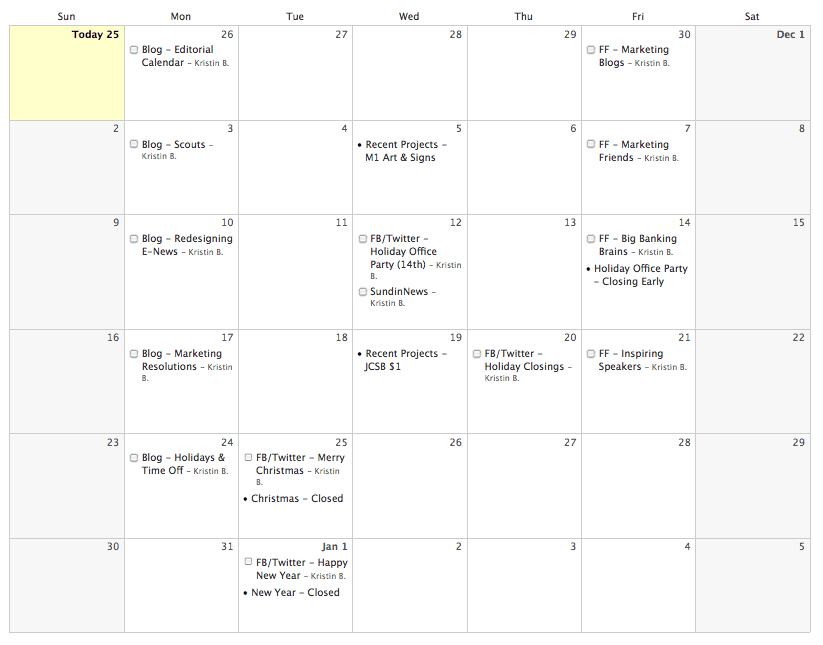 There is no question that the biggest challenge when it comes to creating a robust social media strategy is content. (Say it with me – content is king, content rules, content, content, content).
But knowing you need good content, and creating that content on a consistent basis, are two different things. And here is something I probably shouldn't admit – it gets harder the longer you do it.
That's because while you may be full of ideas of posts and updates to share when you get started, that flow can often slow to a trickle after a few months.
And, given that many of us wear more than one hat, it can also be easy to lose track of your social media strategy when overwhelmed with other responsibilities.
So what can you do to help keep your content strategy on track?
No matter how big or small your business, consider taking time to create an editorial calendar on a monthly basis. As you can see from the example in this post, the calendar doesn't have to be complicated (I used our agency project management site to create the calendar shown here).
There are several benefits to taking the time to create an editorial calendar, including:
Anticipate what's upcoming – From holiday closings to special events, an editorial calendar helps ensure you won't forget anything, or be scrambling at the last minute.
Look at the big picture – If variety is the spice of life, so it should be for your editorial calendar. Through the process you may realize you are presenting a one-sided (or boring) picture to your audience.
Resources & reviews – Some of your planned content may need additional resources (photography, research, interviews), while others may require review by supervisors or, in the case of most of our clients, compliance. An editorial calendar can help you plan ahead to ensure the final content is posted on time.
Schedule – Some updates, such as holiday hours, do not have to wait until the day you want to post. Instead, using available tools including Facebook's interface, you can schedule posts ahead of time. (Ensuring you won't forget to post your company's holiday greeting because you were busy with your family).
Not limited to just blog posts, an editorial calendar can include planned Facebook postings, Twitter updates and other content.