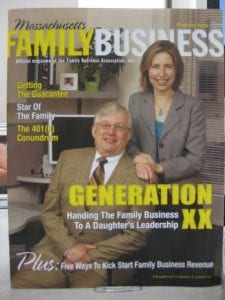 Readers of this week's Banker & Tradesman received a copy of the new publication, Massachusetts Family Business. A joint publication of The Warren Group and the Family Business Association, the magazine will provide readers "with a spotlight into certain family businesses, advice from experts, practical guidance, interesting stories about situations to which all family businesses can relate, and much more."
Many of our clients (regular readers of Banker & Tradesman) were surprised to see two familiar faces on the cover of the new publication – our own Roger Sundin and Kristin Brandt, who were profiled in the article "Generation XX: Handing the family business to a daughter's leadership." Speaking with reporter Scott Van Voorhis, Roger and Kristin shared their experiences working together over the past 13 years.
We are honored to be part of this new publication with other father-daughter teams, and well-known family businesses such as Boch Automotive and Bernie & Phil's furniture. And you can be sure we had to get several copies for family members!
Missed the issue? Click here to download (.pdf)
Visit our Facebook Page to check out photos from the shoot!