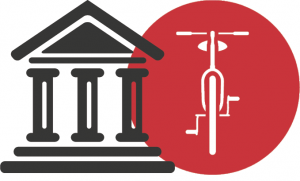 Since my husband opened Steve the Bike Guy Velo Studio in Sherborn just over two years ago, I have been serving as "marketing manager and not-so-silent partner" (as well as ride leader, event coordinator and employee wrangler, but that is a story for another day and another blog).
In that time, I have been struck by something interesting –  whether marketing a bank, or a bike shop, the challenges and strategies are not that different. In the coming weeks I will be sharing some of the lessons and insights I've gained over the last two years as my worlds – bikes and banks – have continued to collide.
Let's start with the idea of specializing.
For a smaller bicycle shop like my husband's, it is impossible to serve the needs of every cyclist, so instead he focuses on his specialties. These are defined by types of bikes (including cyclocross, road, fat & mountain), brands he carries (including Focus, Scott, Lazer), audiences (women, young athletes, charity riders, & cyclocross racers) and services (custom bike selection & builds, service).
By identifying these audiences and specialties, Steve can keep his costs low by stocking a limited number of bicycles, parts & accessories while ensuring he is providing the highest level of customer service. This strategy does have risks as people will (and do) come into the Studio looking for a bike to buy today, or service to be completed immediately, and leave empty handed, which particularly at the beginning, felt like he was leaving money on the table.
Specializing has also helped define our marketing strategy – content on the website including advice, opinions, news and updates is reflective of the specialties, and events are designed for the established audience.
Larger shops and retail establishments such as REI also specialize, but they are targeting a broader, more general audience. And while it's important for us to keep an eye on these larger organizations, we don't consider them competition in the same way we would another small bicycle shop moving into the area.
Bringing this back to banks – a shop like Steve's is to a community bank as REI is to Bank of America or other larger organization. It is easy for community banks to feel like they need to "keep up" and offer all of the same products and services of a larger organization, or even a competitor, rather than focusing on doing what they do better than anyone else.
Take for example a community bank which specializes in servicing small businesses both through financing and deposit services. Often described here in the agency as "reluctantly retail," these services can feel like an after thought or a "necessary evil" (necessary as in the institution is looking to fund commercial loan growth).
Financial institutions that don't recognize their specialties can easily find themselves marketing to millennials without any matching products, or offering online account openings to an audience that still wants to walk into a branch.
That's not to say financial institutions should not broaden their specialties, but it needs to be done thoughtfully and strategically. For example, this past winter Steve expanded to introduce fat bikes, a new product type that promised to extend the traditional season for sales and services. Strategies including group outreach; advice, articles and other content related to fat bikes, and special customer events including a group ride inspired a huge increase in bike sales from November – March and positioned him for a busy spring.
In financial marketing we speak of "share of wallet" which is the idea that consumers work with multiple financial institutions – the same can be said for bike shops. Steve and I understand that it is unreasonable to expect a customer will only work with one shop. Recognizing his limitations (specialties), we have cultivated relationships with local shop owners and encourage riders to work with shops that specialize in areas he does not, such as small children, triathlon or tandems.
What if banks and credit unions tried to do the same thing? Rather than trying to be "all things to all people," what if instead each organization focused on their specialties?