"Logos and branding are so important. In a big part of the world, people cannot read French or English–but are great in remembering signs"
As readers may remember, when opening the Velo Studio in Sherborn, my husband briefly considered changing his logo – but in fact, what he was contemplating was much bigger than that. What he was considering was changing his corporate identity, and subsequently, his branding.
So what's the difference?
While the terms logo and corporate identity are often used interchangeably, a true "corporate identity" includes both the graphic identifying an organization as well as a system for utilizing that graphic throughout a range of mediums. Changes, including the addition or removal of a tagline, should do little to disrupt the primary identity. Which brings me back to Steve the Bike Guy – While his business has changed, from mobile bike mechanic to bike shop, his corporate identity has remained consistent.

As you can see from below, removing "Bike Care Specialist" in favor of "Velo Studio" did little to disrupt the corporate identity. Within his brand standards we also address how his corporate identity will be handled when vertical, horizontal, reversed and one-color (or black and white).
Pre shop opening
Post shop opening
One color option
Special event logos work in concert with, but never replace, the corporate identity. They are created for limited use, and often don't need to follow all the rules, for example they can be more "trendy," and you may not need to worry about how they render in 1-color.
These days, a successful corporate identity needs not only be unique to your organization, easy-to-read, and stand the test of time, but also needs to be able to function within a wide range of sizes and shapes. When developing the corporate identity for MutualOne Bank, we included a square option the Bank could use not only to represent their organization on social media, but also utilize for their online banking apps (and eventually their mascot, Mo).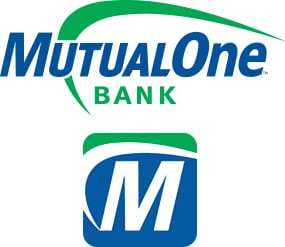 Logos created for ongoing promotions, and special events, reinforce the Bank's corporate identity through the use of colors, fonts and selective use of the "swoosh."



So how important is your organization's corporate identity and branding? As a new customer to the Velo Studio told me recently – "when I first saw his sign, I thought 'when I buy a bike, I'm going to Steve the Bike Guy.'"
Save
Save
Save
Save
Save
Save
Save
Save
Save
Save
Save
Save
Save