In 2006 we introduced SundinNews, our "semi-regular" email newsletter sent to clients and friends. And by "semi-regular" I mean, anytime I remembered to get to it.
It's not because we are lacking content. As those who follow our agency may recognize, I have been working to update our blog and portfolio on a more frequent, if not entirely regular basis. In a case of "practice what you preach," I've been trying to plan more through the use of an editorial calendar.
But we continue to fall down when it comes to sending out our newsletter which is ridiculous when you consider that we regularly receive comments, commendations and questions after each issue.
So, it is with some reluctance, that I've decided to use MailChimp to automate our email newsletter. Why with reluctance? Because as with anything we automate, there are compromises. In the case of SundinNews, I'm compromising how the newsletter looks, and when it is released, in favor of communicating with our list on a regular basis.
Automating our new email newsletter, pictured below, was actually pretty simple – utilizing MailChimp's RSS-to-Email functionality, we are able to pull in content from our website and have it automatically inserted into the newsletter. The content on the right, where we are highlighting recent projects, has to be updated manually – which I will set a reminder to take care a week or two before the next newsletter is scheduled to send.
My strategy is, by focusing on providing a quality mix of content hosted within our base (the website), we are certain to present that same mix within our email communications. Also, the knowledge that whatever we publish on our site will be shared AUTOMATICALLY will also push us to provide consistent quality content.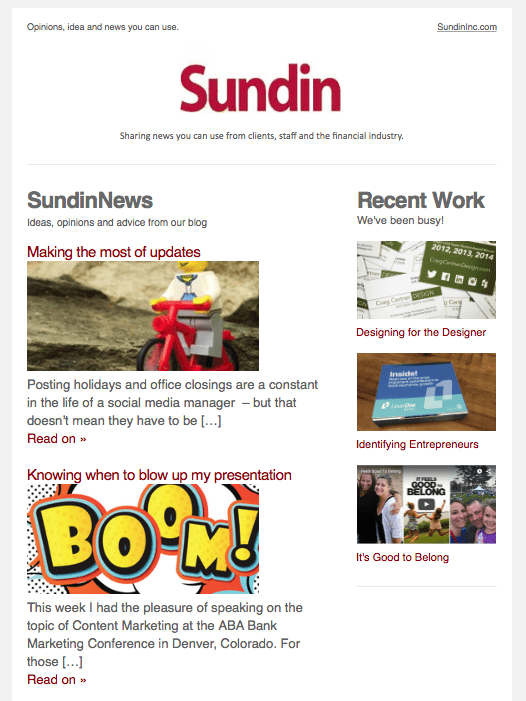 So look to your inboxes friends and clients –  because the new SundinNews will be coming to you monthly.
SundinNews through the years
SundinNews 2006 – 2013
SundinNews 2013 – 2015
SundinNews 2015