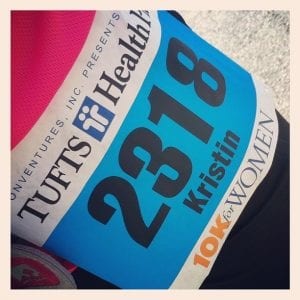 In the past year I have contributed to several local charities including the Boston Harbor Islands, MetroWest YMCA, The Family Van, the Ashland Redevelopment Authority, and on Tuesday, the YMCA, Cultural Council and Education Foundation in Needham. And I did it all simply by strapping on my running sneakers and participating in, 5 (and 10)K road races.
This summer as I ran on the roads of Chatham with the president of one of our client banks, my running companion predicted that 5K running races were the new fundraising golf tournament, because they were less expensive to organize, less time consuming, and allow for more community involvement.
Since that conversation, I have often thought about his prediction, and can certainly see the benefits of organizing a 5K over other traditional fundraising events.
Let's break it down:
Time commitment – Tuesday's New Year's 5K organized by the Needham Running Club was scheduled for 11 am. Even with the extra driving time required for someone like myself who was coming from Ashland, the entire event including travel, waiting, and running took less than three hours, giving me plenty of time to take the kids sledding later that afternoon.
Everyone welcome – Many events, including the Spectacle Island 5K I attended in June, include opportunities for all ages to participate including fun runs for the children or shorter walk distances for non-runners.
Community involvement –  Running in the Ashland 5K and Half-Marathon, I was not only impressed by the number of runners who showed up on a cold and rainy October morning, but also the numerous family, friends and neighbors lining the streets to cheer on participants.
Lower cost of entry – Registering for the Finish at the 50 sponsored by Harvard Pilgrim cost me $30, plus an additional $10 for each of my children to participate in the Kids Race – A significant cost savings when compared to the entry fees of other fundraisers, which allows for greater participation.
While I certainly don't see golf tournaments as fundraisers going anywhere – which I'm sure is a relief to all my favorite golfers out there – I have personally witnessed the fundraising and community building power of running events. I believe there is an opportunity for community banks and businesses to not only support the growing number of local events through sponsorships and volunteer participation, but also by organizing races of their own.