It's hard to believe that it has been over a year since I wrote about proposed changes to ADA regulations related to websites – hard to believe, because promised regulations have not been released, and it doesn't look like it's going to happen anytime soon.
Which has left banks and credit unions in a funny place when it comes to ADA compliance – do they dedicate resources towards bringing their sites and related technology in-line with "Web Content Accessibility Guidelines (WCAG) 2.0, Level AA" standards, or do they take a "wait and see" approach and risk a potential lawsuit?
From our observations, it appears that many community banks and credit unions are choosing to upgrade their websites, particularly if they already had a redesign planned. Which makes sense given the cost of a website overhaul – why spend the money only to end up with a site that, in the end, isn't going to meet the needs of all your visitors AND continues to leaves your organization open to litigation?
And the good news is there are many developers who are qualified to implement the standards, and a growing number of free or low-cost tools such as WAVE (Web Accessibility Tool) and the wA11y WordPress plugin, available to assist with the process.
There are also a growing number of organizations such as SiteImprove which, for a fee, will scan and evaluate a site's compliance against the standards, and provide reports to financial institutions on an ongoing basis. It's important to keep in mind that these systems are not perfect, and different systems may yield different results based on the how the developer interpreted the standards.
It should also be noted that while automated systems like SiteImprove are great tools, often including additional services such as broken link checkers, spell checkers, and SEO scanning, they can only ensure a site is "ADA-ready." That's because for a site to be truly ADA compliant it needs to be reviewed by qualified individuals with disabilities who may have different (and often more realistic) interpretations of the standards.
Which brings me to the bad news – starting with certification. As much as we would like the assurance of a document marking our site as "certified," most companies we've spoken to are unable to provide certification because websites are constantly changing. A site that passes inspection today may fail tomorrow because of something as simple as a missing alt (or alternative) tag on a new image.
In the past year, we've seen two actual certifications – the first provided by AudioEye through BankSITE Services, as shown on the website below, provides visitors with accessibility tools and a statement on the organization's accessibility efforts. Sites completing all three phases of the certification process display a message certifying the site as accessible.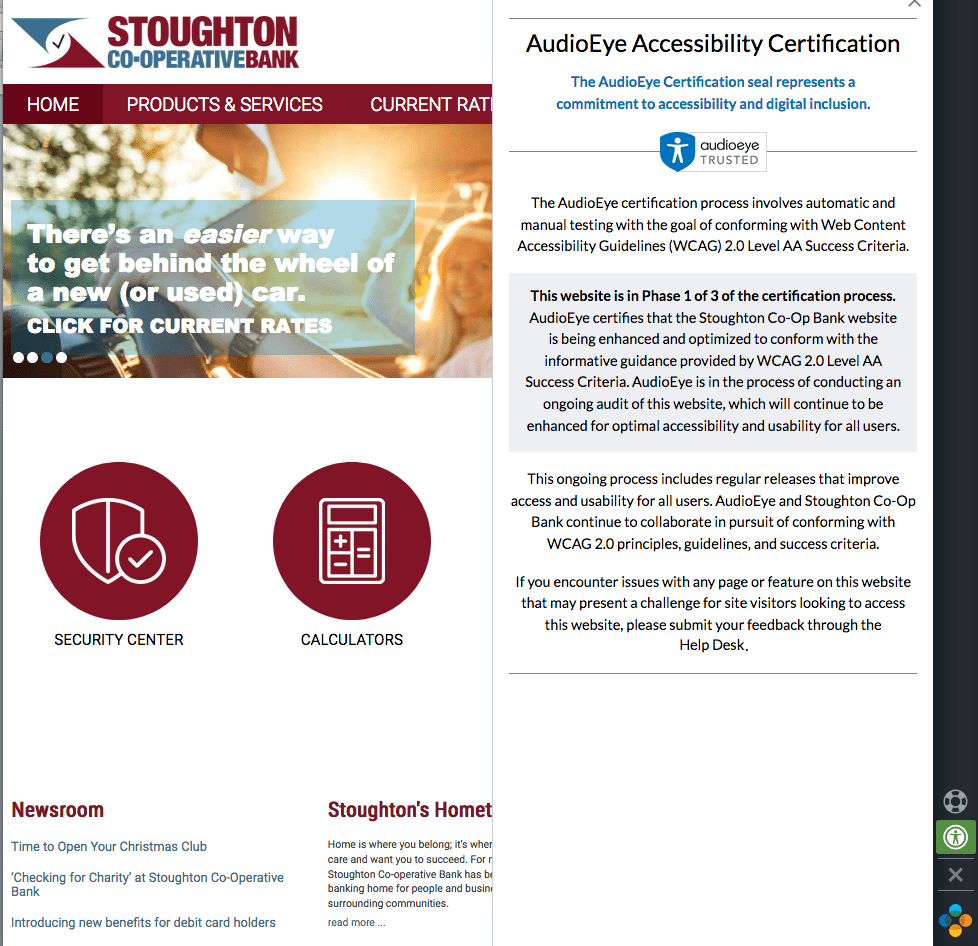 The other certificate we received stated the site was compliant as required by the "Americans FOR Disabilities Act." In other words, the certification was meaningless, and may, in fact, put the bank at risk for overstating their accessibility if asked by regulators (or customers).
The other bad news is that while website developers are onboard with bringing sites in-line with recommended accessibility, the organizations banks and credit unions rely on to provide critical services such as online banking, mortgage and loan applications and other functionality have taken the path of "wait and see." These services, unlike the website itself, could easily be considered essential services (what is more important – checking the current rate on a savings account, or checking your account balance), leaving financial institutions exposed to additional lawsuits.
So where does that leave us?
While there may be some grumbling in boardrooms about regulatory overreach, designing websites and supporting technology to meet the WCAG 2.0 (AA) standards will benefit a growing number of your customers and members. For example, according to the National Eye Institute, age-related macular degeneration (AMD) is the leading cause of vision loss among people age 50 and older – which by 2020 will account for over 35% of the population. This population may not be considered "disabled" but they will benefit from sites that are easier to read because of accessible design.
Which means the time to get started on improving accessibility is now. And while you may not have the time, or resources, to make your site accessible now, you can do the following:
Establish a standard for accessibility as suggested in the ABA Staff Analysis of Accessibility of Web Information and Services from September 2016. This demonstrates your organization's understanding that accessibility is important, and ensures that accessibility will be worked into contracts as they come up for renewal.
Add an Accessibility Statement on your website which outlines not just your online efforts, but also all the ways your organization makes financial information accessible to visitors (and tells them who to contact at our organization should they be having difficulty).
Use available tools to evaluate your site and change what you can – ensure images use alternative text, update pdfs, change colors to improve contrast – there are many things you may be able to do now to improve accessibility.
Because accessibility isn't just about not getting sued. It's about doing what's best for business.