All I wa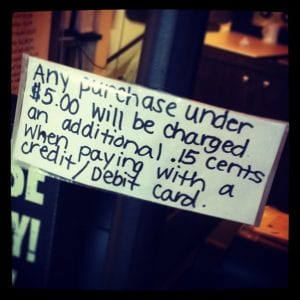 nted was a sesame bagel with cream cheese. But as one who never carries cash, finding my breakfast this morning was a bit more challenging than I could have anticipated.
At my first stop, a local bagel shop in my hometown, I was faced with a handwritten sign stating "Cash Only." Confirming that meant no plastic (better safe than hungry), I headed to another local bakery where, after placing my order, I was informed that because my purchase was less than $5, I would be charged 15¢ extra.
If I wasn't hungry and anxious to get to the office, I probably would have refused.
In neither of these situations did I ask what the issue was, but I can probably hazard a guess. From the TV on the fritz above their heads, I believe my first stop was having communications difficulties and couldn't connect with their card processor. Unfortunately, they lost a sale of over a dozen bagels and cream cheese, because I was planning on buying treats for the office.
My second stop, which I've already featured on this blog because of their questionable signage, probably has something to do with the fees the owner is being charged by their credit card processor. I have no idea if that is actually the case, and again, if I wasn't so hungry I'm not sure I would have finalized my transaction.
So what's the lesson here?
For the bagel place with the communication disconnect, it's having a backup plan – they could use something as simple as old fashioned credit card processing slips or as high tech as a Square reader to accept payments. Also, replacing the "Cash Only" sign and the shrug from the counter staff with a slightly friendlier sign and a coupon to come again later, would have improved the experience.
For my troubled little bakery, I share this tidbit of information – according to the 2013 Debit Issuer Study commissioned by PULSE, institutions surveyed saw  "a 14 percent increase in PIN transactions and a 6 percent jump in signature transactions in 2012." While continuing to charge customers using debit and credit cards is an option, it is also their option to eat elsewhere.
Instead, look to your local financial institutions – community banks and credit unions – or non-traditional payment processing options to determine if you can lower your fees. You can also replace the fee notice with another explaining why cash is preferred (but not required).
Keeping up with new technologies isn't easy, but punishing consumers for their payment choices – either accidentally or with purpose – will make doing business even more difficult.